March 7, 2015 | The Experience, Kirsten Forrester '17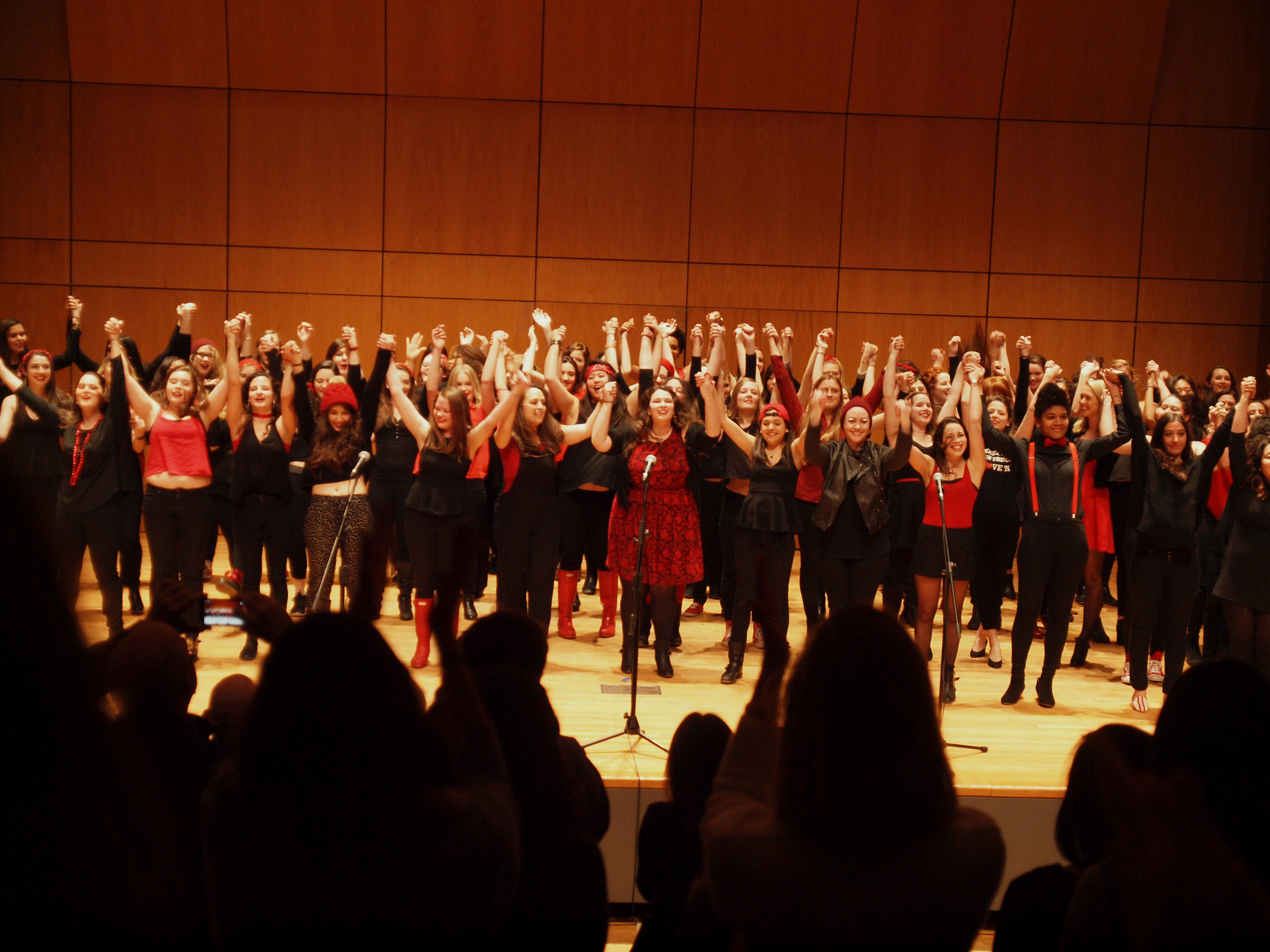 For the past thirteen years, the female students of Connecuticut College have performed "The Vagina Monologues," an episodic play written by Eve Ensler, to raise money for sexual assault survivors. This year, however, the students and community decided to create a production that better speaks to the experiences of women on our campus. They titled the new show "As Told by Vaginas," and the show is now comprised of student-written monologues from within our community. As I sat in the audience and listened to friends and peers perform these monologues, I appreciated the candor in which these stories were told. They were true, honest and real. Some were funny, some were serious, and others empowering. Most of all, I could feel the sense of community among the female performers. In the photo above, they take a group bow together.
March 7, 2015 | The Experience, Marina Stuart '16

As part of Connecticut College's career program, the career office offers a number of workshops to help students prepare for internships and jobs. When students take the workshop about personalities, they find out what Myers-Briggs personality type they are. When I first took this, I distinctly remember being told that my personality type was one that did not take criticism well ... which I took as a personal criticism, thus fulfilling what the test had just concluded. Since then, I have been working on trying to take everything less personally, especially when it comes to my essays and any sort of constructive criticism. This challenge was put to the test last week in my "Writing the Short Story" class, when the short story I wrote was "workshopped" by my classmates and professor.
How a workshop works: The person whose story is going to be worked on sends out that story the week before, then everyone reads it and makes comments over the weekend. On Tuesday, everyone comes in already having read the story, then discusses the story while the author sits there silenty, taking notes. When it came to be my turn, I was scared that no one would like my story and anything critical they said about it would feel like a personal attack. To combat my fear, I had several (very critical) friends read my paper and give me comments on it so I would feel better prepared for my workshop. We kept joking all week that this was going to be my exposure therapy, but even with all that preparation, I was still terrified when the day arrived. Despite my worrying, however, my classmates and professor we're very respectful when it came to critiquing my story (as they are with all of the stories in the class) and I received very positive feedback.
Now, I will say, I have not mustered up the courage to go through all the individual written comments they made and gave to me about the story. That will come soon and be round two of my therapy session.
March 6, 2015 | The Experience, Oliver Ames '17

This is a story about community, leadership and lots of snow. I'm a floor governor (similar to an RA but with additional responsibilities) in one of the College's oldest residential halls, Branford. After getting to know members of the residential life student staff really well during my first year at Conn, I wanted to become a part of the student staff so I could help create the nurturing atmosphere found in our residences.
This winter, after lots of training and one semester of experience on the job, I finally feel like I've hit my stride as a floor governor. I know how to help with homesickness, mediate disagreements, and help keep people calm and entertained during snowstorms. This winter has been one for snow in New England. Nearly every New England town is covered in a mixture of beautiful white snow, brown slush and black ice. Because of the weather, the school has had to close a few times.
When a blizzard hit Connecticut in January, floor governors sprung into action. We had numerous tasks to complete to keep the halls running during the storms, but, more importantly, it was up to us to keep students safe and entertained. We planned snow day events, helped Facilities shovel walkways, started fires in the fireplaces of common rooms, and helped the College continue to operate as staff worked night and day to plow and move snow.
When I was accepted to the position, I was overjoyed because finally I felt like I could be a figure for people to turn to. This winter has offered the student staff that opportunity, and we rose to the occasion.
March 4, 2015 | The Experience, Rebecca Seidemann '18

André Robert Lee '93 is a director and producer who creates documentaries designed to open up the floor to racial discussions. Rather than making a "safe space," he wants his audience to be uncomfortable. He wants real discussions to occur as a result of the works he's made.
Lee is an African-American who got a golden ticket, as his peers referred to it, when he received a full scholarship to an elite private school. After going through prep school, he attended Connecticut College.
Lee was always fascinated with the idea of this golden ticket he received and how it forever changed the way he fit into American society. He started reflecting on his own story, which made him want to expand his research and discovery further. So, he combined his interest in racial studies with his interest in film. "I'm Not Racist, Am I?" is his most recent project.
Last Wednesday, the campus got a chance to watch the film and have a Q&A session with Lee. Prior to this, my American Studies class got an even more exceptional experience: Lee came to our class and, more or less, led that day's class discussion.
The experience that movie-goers, but especially members of my American Studies class, were able to have was really unique when you think about it. Many people don't have the opportunity, resources, and/or education for such discussions, let alone discussions with a filmmaker. We were able to combine people from different states (different countries even), different economic backgrounds, different cultures, etc. to have a real, unfiltered discussion on race. That's such a genuine, liberal arts-y thing.
We also can't forget that Lee is a Connecticut College Camel himself, as is Liza Talusan '97, an educator featured prominently in the film. As a first-year student, I haven't really looked past college yet, but it's good to sometimes take a step back and look at all of the possibilities. College students are standing in square one, surrounded by opportunities that they can choose to take or not take. Lee was in our shoes, then he left the Land of Camels on one of those paths and returned to show us baby Camels what's possible.
March 2, 2015 | The Experience, Mike Wipper '17

Often times, events on campus stand out by the amount of free food they offer. Although "Love is For Everyone" did offer the delicious cuisine of Mirch Masala, it was more than the food that drew me (and countless others) to enjoy a night of spoken word, group poetry and musical offerings, all aimed at transcending the idea of love on Valentine's Day just being about the romantic sense.
As a collaboration between the Office of Residential Education and Living, The Women's Center, the Residential Education Fellows, the Student Activities Council and other organizations, incredible poets from all class years came forward and offered their take on love in every sense of the word.
I must say: I've seen some spoken word performances and I'm not lying when I tell you that this night offered the best I had ever seen — much more so than some performances in Boston that were in "professional" settings. I was so amazed at the quality of art being created at our College. Pictured here are Haley Gowland '17 and Katherine McDonald '17 performing a number of beautiful duets: some sad, some happy, but all incredibly moving. Their harmonies sent shivers up my spine. Also pictured is Riley Meachem '18 performing an original poem. His creative language and beautiful rhetoric kept me entranced throughout the entire piece. In addition, I had a great conversation with Joseph Mercado, who organized the event with help from Professor Roberts of the Dance Department.
February 27, 2015 | The Experience, Rebecca Seidemann '18

I think we all remember a time (or maybe a few) in middle school or high school when we raised our hand to express some ingenious idea we had, only to be immediately shut down by the teacher. Pre-Continental Drift theory — one can only imagine how many students in geography courses said, "Hey, those continents look like they fit together." Then the teacher would say, "No, stop trying."
Well, college is pretty different. Unless you're in math, your ideas aren't usually flat out wrong. I know, it's shocking. You can express thoughts and no one will call you out for being ridiculous (in theory, at least).
I was in my American Studies class the other day, a philosophy class, discussing the poetry of Hughes, Whitman and Ginsberg. For context, my professor likes to break everything down very carefully into minute detail. You can't get away with spewing out thoughts without being asked to define the words and concepts that you used in your explanation. We were talking about how "hopeful" some of these poems were, and I decided to take a page from my professor and try to define exactly what "hope" is.
I raised my hand and disagreed, saying that these poems were actually not hopeful. I believe that the word hope has the connotation of relying on external forces to assist in a situation. My professor disagreed, but he didn't say I was wrong. Then, as the class went on, more and more of my classmates started agreeing with my point. Soon, this definition of "hope" became part of the main discussion. I find the interpretation of language really fascinating, so this conversation was right up my alley.
It's so nice being able to discuss things with professors and know that neither party has to be right or wrong. You both get to bring your background knowledge and prior experiences to the table to try to figure out something together. Of course, it was also a welcome experience to have my peers chime in, and it's also relieving not to have as strict a lesson plan as in high school. This flexibility lets our conversations wander and develop naturally.
In college, professors aren't "teaching to test," so I've noticed our classes can slow down and inspect concepts without the fear of missing too much material. This aspect of college is something I really enjoy.
February 26, 2015 | The Experience, Marina Stuart '16

It's hard to get back into the cycle of going to class and turning in work after a lengthy vacation. That's especially true when the break is of summer length, or even a semester abroad.
Folllowing my return from Scotland, I was confident that I would make the adjustment back into college life easily. I was back early because of track and field, and I was excited to be back at the place I had called home for two years. Much to my surprise, however, the transition has taken longer than I realized. What do I blame? The snow — and maybe that fact that I decided to take on extra responsibilities this semester and enroll in more courses than required.
But really, it's the snow.
For the first few weeks of this semester, we didn't have a full week of classes, which made reentry and adapting to a new routine very difficult. All the while, I had three lengthy writing assignments due all on the same day, which immediately sent me into an intense prioritization mode.
This upcoming week seems to be looking normal so far, but the snow and wind blowing around my building appears somewhat threating. It seems that this may the first time in my entire educational life that I am not hoping for a snow day, just so I can get back into regular Connecticut College life.
February 25, 2015 | The Experience, Marina Stuart '16

Following the weekend of Jan. 31, I can proudly say that I have now actually been to Boston and walked around it.
Technically, I have been to Boston many times, but those were all for Connecticut College track meets, and I don't count seeing the Tufts or MIT indoor tracks as really "seeing Boston." Last weekend, I didn't have a meet, so I jumped in a car and went to Boston, both for my own enjoyment and also to see some Conn alumni friends who had gathered there. Our campus is about two hours from Boston, making it an easy trip. (There's also the Amtrak line that stops in New London and connects directly to Boston as an option for students.) The weekend was fun, filled with pre-Super Bowl predictions, Indian food, Cards Against Humanity and a memorable picture made better by the Conn-In-A-Box party favors that the Office of Alumni Relations sends out to Camels who host parties.
The highlight for me might have been seeing the Make Way for Ducklings statue in the Boston Public Gardens, which had been one of my dreams since childhood. Now I can only say that I can't wait to go back!
February 24, 2015 | The Experience, Allison Mitobe '17

As a transfer student getting used to Connecticut College, "New" is a big part of my vocabulary: a new school, new schedule, new professors and new jobs. I am fortunate enough not only to work as a blogger for The Experience, but also as an office assistant for the College's Academic Resource Center (ARC).
I absolutely love working at the ARC because of all the new faces I get to meet. Students stop by for tutoring sessions and to become tutors themselves. They stop by to meet with academic counselors about time management skills, to get presentation advice, to polish their interviewing skills and to get papers edited. All a student has to do is ask for some help or advice and, with that, a tsunami of support will eagerly rush in.
As a student staff member of the ARC, I reap the benefits of working around the informative professional staff. For me, like many college students, procrastination haunts my good intentions of studying. Sometimes when I sit down to study, something averts my focus from homework, like Netflix, a nap or sounds from down the hallway.
While in the office recently, I asked Chris Colbath, a learning specialist and coordinator in the Center, for a simple tip to improve my study habits. His No. 1 piece of advice was to learn how to prioritize. He said that you should do your assignments based on which deadline comes first. Most importantly, he advised me to do homework outside of my dorm room. There are so many distractions (like sleeping and computers) in the our rooms that removing ourselves to the library or other spaces on campus will help remove temptations.
Taking the advice to heart, I decided to implement all of his suggestions. I have been prioritizing my work better and doing much more of my homework in library spaces. Not surprisingly, the amount of work I get done is astronomical in comparison.
February 23, 2015 | The Experience, Allison Mitobe '17

My Valentine's Day was a memorable one, and not in the way you'd expect.
A friend of mine and I had planned on seeing a very specific and highly-anticipated movie that would premiere on Feb. 14 — "Fifty Shades of Grey." All of our ducks were in a row: We bought our tickets, chose our seats and planned what time we'd meet at the Camel Van. The one thing we did not calculate was a blizzard.
The blizzard impeded our well-thought-out plans because the Camel Van, due to poor weather conditions, could not make its usual trips. Panic shot through our bodies but our tenacity prevailed over this calamity. With only 30 minutes remaining until showtime, my friend and I eagerly dialed for a taxi. When we called, telephone lines were either busy, calls weren't going through, or we would have to wait an hour for the next available taxi. Our hopes of getting to our destination dwindled as time progressed. Right when I was about to give up, I saw a taxi pull onto campus and ran for it. Fortunately he saw me, brought us to the Waterford movie theater, and we were on time.
I have never seen such a beautiful theater before. Hardwood floors and big spacious reclining chairs made the struggle worth it. After the movies, the effect of the blizzard had not melted away. A new problem arose: How do we get back to school? Like before, taxis were either unavailable or the waiting line would be hours long.
Thankfully, another Conn student was there seeing the same movie, except her show started 30 minutes after ours. My friend knew the other Conn student, texted her, and asked if she wouldn't mind giving us a ride back. She agreed and drove us back safely to campus. I couldn't have been more grateful. Her benevolence showed me how the Conn community extends beyond campus. No matter where they are, Conn students constantly look out for one another; she certainly looked out for my friend and me.
<< < 1 2 3 4 5 6 7 8 9 10 11 12 13 14 15 16 17 18 19 20 21 22 23 24 25 26 27 28 29 > >>