Conference Registration Included a Saturday Lunch: Food & Schmooze!
Conference guests shared a table and discussion with local sustainable food producers, urban farmers, foragers, food security organizations, Connecticut College organic gardeners & Office of Sustainability Fellows.

Meet our Food & Schmooze table hosts:


CitySeed
Lisa Holmes, President of the Board
What began in 2004 with four New Haven residents in search of a fresh, local tomato, has grown into a statewide effort to get more local food to more people, promoting community development and sustainable agriculture in Connecticut. CitySeed now operates five neighborhood farmers markets, a mobile market, and a Community Supported Market, among other programs, to celebrate and ensure local food access.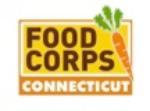 CT FoodCorps
Catherine Hallisey '13, FoodCorps Service Member
FoodCorps is a nationwide team of AmeriCorps leaders with a mission to educate and connect kids to healthy food in school.
CT NOFA
Northeast Organic Farming Association of Connecticut is the first and leading grassroots association advocating for organic food, farming, gardening and land care in Connecticut, connecting people in the local sustainable food and land care movements with organic resources and education.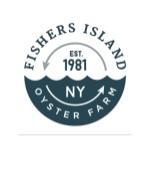 Fishers Island Oyster Farm
Sarah Malinowski '14
Fishers Island Oyster Farm practice's suspension culture aquaculture, thus providing the most sustainable source of protein on the planet. They recognize that an extraction economy is not sustainable on land or in our oceans. The are a part of the new narrative of farming; one that puts back what it takes out; stepping up their restoration efforts, and are a 1% for the Planet member. Fishers Island Oyster Farm also supports the New York Harbor School and the Billion Oyster Project.

Four Root Farm
Aaron Taylor, Caitlin Taylor, Rachel Berg and Elise Cusano, Owners & Farmers
Four Root Farm is a small and diverse vegetable farm in East Haddam, Connecticut that is committed to growing nutritious, delicious, and highly unusual produce.

Full Heart Farm
Allyson Angelini, Farmer
Full Heart Farm is a small family farm in Ledyard Connecticut that encourages a return to the family table through meal-based farming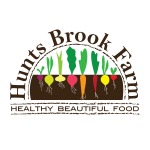 Huntsbrook Farm
Robert Schacht, Farmer & Owner
Robert and Teresa Schact have crafted a medium sized CSA in Quaker Hill, Connecticut, with a robust farmer's market presence for their high quality goods. HBF's philosophy is simple: to provide healthy, beautiful food grown in ecologically and socially responsible ways.?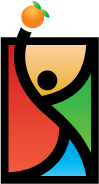 Iskashitaa Refugee Network ?Chloe Sovinee-Dyroff, Harvesting Coordinator
Iskashitaa Refugee Network works with home and property owners to harvest excess locally-growing produce and redistribute it to food-insecure families
Land For Good
Jim Hafner, Executive Director and Rachel Murray, Connecticut Field Agent
Land For Good is a non-profit working to promote farmland and farmers in the six northeast states to increase farming opportunity, healthy lands, and a more secure food supply.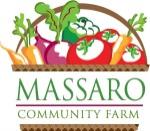 Massaro Community Farm
Steve Munno, Farm Manager
Massaro Community Farm, Inc. is a nonprofit, certified-organic farm in Woodbridge, Connecticut. They are committed to supporting the legacy of farming, feeding neighbors in need, and building community through events and hands-on education for all ages.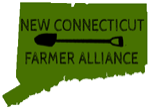 THE New CT Farmer Alliance
Susan Mitchell, Representative
NCTFA is an affiliate of the National Young Farmers Coalition, and are fiscally sponsored by the Connecticut Farmland Trust. Their affiliations with each of these groups allows them to exist as an organization and more effectively operate as a farmer-led and farmer-driven group dedicated to supporting small-scale and direct-market growers who are often first-generation farmers.
Susan Mitchell is also Farm Owner & Operator at
Cloverleigh Farm
. Located in Colchester Connecticut and established in 2014, Cloverleigh Farm is a small-scale mixed vegetable farm that uses organic growing practices to create fresh, beautiful produce.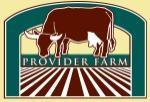 Provider Farm
Kerry Taylor, Owner & Farmer
Provider farm is located at the historic Woodbridge Farm property in Salem, Connecticut. They grow their vegetables chemical free on 14 acres of soil, and use 20 acres of biodynamically managed pasture to raise heirloom cattle.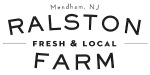 Ralston Farm
Phil Haynes '14 and Bennett Haynes, Co-owners
Ralston Farm, LLC is a small-scale, diverse farm based in Mendham, New Jersey. They farm for a growing 125 member CSA program and work with several local restaurants, growing fresh, high quality vegetables and pasture raised ducks and pigs.
Grace Reynolds '13
A Connecticut College alum, Grace is finishing up her MA in Food Studies at NYU and is currently working at the Institute of Culinary Education.
Share Our Strength's Cooking Matters
Talia Hahn '13, AmeriCorps Direct Service Member Alumni
Talia did a tour of duty with Cooking Matters (an AmeriCorps program) and is doing research on food with Ruth Grahn. Share Our Strength's Cooking Matters Massachusetts empowers families with the skills to stretch their food budgets so their children get healthy meals at home. Cooking Matters Mass. partners with community organizations and volunteer culinary and nutrition instructors to offer six-week cooking courses and one-time grocery store tours to participants
Sprout
Connecticut College
Sprout is a student-run organic garden located behind the College Center at Crozier-Williams ("Cro"). The Sprout Garden offers an opportunity for students to become involved in all aspects of sustainable agriculture, as well as to provide local, organically grown produce to the campus dining halls.
Wholesome Wave
Julia Pon and Leah Johnson '12
Wholesome Wave strives to create a vibrant, just and sustainable food system. By making fresh, locally grown fruits and vegetables affordable and available, we enable underserved consumers to make healthier food choices. Our innovative initiatives are improving health outcomes among low-income families, generating additional revenue for small and mid-sized farm businesses and bolstering local and regional economies.