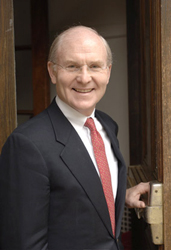 Leo I. Higdon, Jr., is president emeritus of Connecticut College. He currently teaches courses in leadership and leadership development at the College of Charleston and the Darden Graduate School of Business at the University of Virginia.
Higdon served as Connecticut College's 10th president from July 1, 2006, until his retirement on Dec. 31, 2013. In honor of his retirement and in recognition of his successful presidency, the Board of Trustees announced he would be awarded an honorary degree at the College's Commencement ceremony in May of 2014.
A strong advocate of liberal arts and sciences education, Higdon leveraged his business acumen and higher education expertise to distinguish Connecticut College among premier liberal arts colleges nationwide. Under his leadership, Connecticut College strengthened its admission profile with improved competitiveness in the number and quality of applicants, and improved selectivity. The College also implemented an array of programs that foster faculty-student interaction, enhanced faculty and student diversity and strengthened the academic core of the institution.
Additionally, Connecticut College earned national recognition as a top producer of Fulbright Award winners and Peace Corps volunteers, a winner of the Sen. Paul Simon Award for Campus Internationalization and a member of the President's Community Service Honor Roll with Distinction. Also, Higdon oversaw an enhanced financial aid program, launched a new Science Leaders program to help attract and retain underrepresented students in the sciences and opened a new state-of-the-art science center.
The Ann and Lee Higdon Fitness Center, which opened in 2009 and tripled the College's exercise and wellness space, was dedicated in honor of President Higdon and his wife upon his retirement in 2013.
Higdon was president of the College of Charleston from October 2001 to June 2006, and oversaw that institution's growth from a regional university to a nationally known liberal arts and sciences institution. Under his tenure, the College of Charleston enjoyed enormous growth through extensive construction projects, expanded academic and co-curricular programs, and increased financial support. Higdon was awarded an honorary doctorate from the College of Charleston.
Higdon received a bachelor's degree in history from Georgetown University in 1968. Following graduation, he and his wife Ann spent two years in the Peace Corps, teaching in Malawi, Africa, where the first of their four children was born. He earned an M.B.A. in finance in 1972 from the University of Chicago.
In 1973 Higdon joined Salomon Brothers. He became vice chairman and member of the executive committee and managed the firm's global investment banking division. He initiated and executed four transactions recognized by Institutional Investor as "Deals of the Year."
After 20 years with Salomon Brothers, Higdon became dean of the Darden Graduate School of Business Administration of the University of Virginia. He left Darden to serve as president of Babson College in Wellesley, Mass., and Babson awarded him an honorary doctorate in 2007. At both Babson and Darden, Higdon led top-ranked schools, developed diverse populations and doubled endowments through record-breaking fundraising.
Currently, Higdon is a member of the boards of directors of HealthSouth Corp. and Eaton Vance Corp., where he serves as lead director. His past board affiliations include Bestfoods Corporation, Georgetown University, Mt. Holyoke College, the Brooklyn Museum of Art and the Association of American Colleges and Universities. He has written and published widely on higher education and business. Higdon and his wife Ann have four grown children.