"Performance Portrait: Live"
Thursday, February 25, 4:30 - 6 p.m.
Friday & Saturday, 11:30 a.m. - 1:30 p.m.
Cummings 301, Third Floor
"Performance Portrait: Live" is composed of four video projections, each a life-sized representation of a different performer. Each performer was given the same task: to keep their gaze centered on the camera for a formidable four-hour period. The distinguished performers (Anna Azrieli, Leslie Cuyjet, Peter Schmitz and David Thomson) come from diverse cultural and performance backgrounds, drawing from a wealth and range of performance experience. The effort of this task elicited distinct emotional, physical, performative, and formal responses. In this way, the recordings act as portraits of each performer.
When installed, the video portraits are projected onto vertical screens. A lit pedestal stands in front of each screen. When a spectator steps onto the pedestal, the video is activated and an image of one of the four performers emerges. The performer, life-size, looks into the eyes of the spectator whose movements, including unconscious gestures and shifts of weight (some in response to the image), are tracked with sensors. This movement data is used in turn to determine which moment of the performance video will play back, creating an exchange between spectator and performer. The exchange is subtle and unpredictable: not every movement elicits a response, and the mapping between movements and responses are complex. The spectator is rewarded for the duration of their interaction with the image – the longer one stays, the more intimate the performer's engagement.
The live spectator, lit and standing atop a pedestal, becomes the installation's key second component, engaging in a duet with the projected image as they behold a unique iteration of the recorded performance. No experience of the piece is the same. For us, it is this mirrored connection that is transformative and meaningful. In a time where live and virtual space are collapsing, the search for an intimate connection to performance, is at the core of "Performance Portrait: Live."
"Performance Portrait: Live" features video that is composed and captured by durational documentary filmmaker Julie Wyman, performances by a group of accomplished performers, directed by choreographer Yanira Castro, an audience environment by Kathy Couch (pedestal, screens and lighting), and interaction design by Stephan Moore.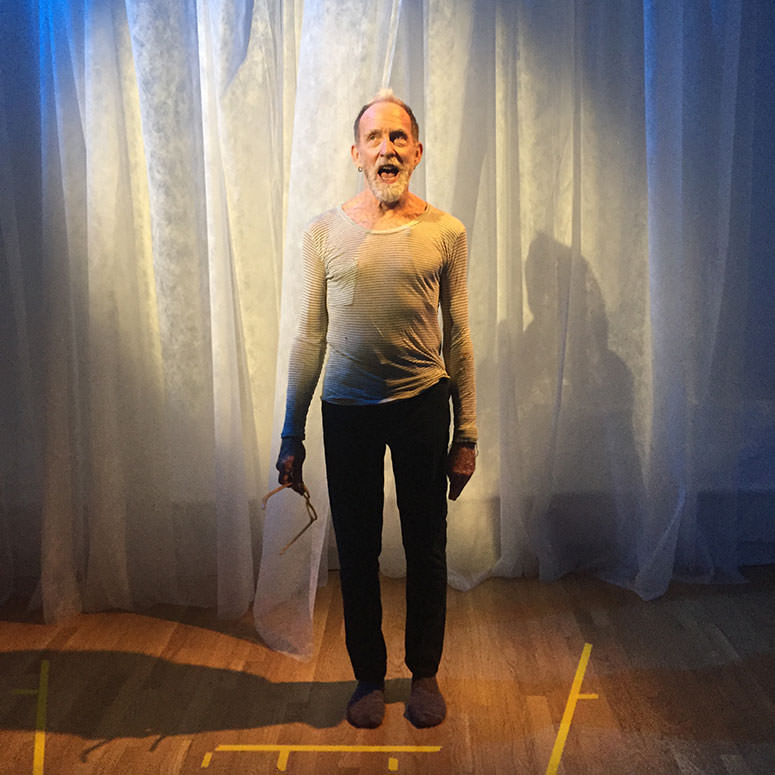 a canary torsi
a canary torsi creates site-adaptable, installation-based performance projects. Formed in 2009 by New York choreographer Yanira Castro, a canary torsi?is a collaborative group of artists that invites audiences to participate in work that is anchored in performance and extends into other media and online platforms. Ranging from formal movement and immersive audio installations to fictional Twitter feeds and interactive websites, a canary torsi explores the relationship between audience and event, developing scenarios where the audience's presence dramatically impacts the work.
acanarytorsi.org Court/Garden on tumblr
What is alive is not what's on the screen but what is between you and the screen.
- ­Jean Luc Goddard, 1968

Lead Collaborators
Yanira Castro

CONCEPT/CHOREOGRAPHER
Yanira Castro is a Puerto-Rican born and Brooklyn-based director/choreographer. In 2009, she formed a canary torsi, a collaborative group of artists that invites audiences to participate in work that is anchored in performance and extends into other media and online platforms. She has created nine evening-length works, receiving a New York Dance and Performance "Bessie" Award in 2009 for Dark Horse/Black Forest presented by Performance Space 122 in the lobby restroom of The Gershwin Hotel. The archive for a participatory multimedia performance installation, The People to Come (thepeopletocome.org), was featured in The New Museum's exhibit, "Performance Archiving Performance," in 2013. Castro's work has been presented by Danspace Project, New York Live Arts/Dance Theater Workshop, PS122, The Invisible Dog Art Center, ISSUE Project Room, The Chocolate Factory, The BEAT Festival and The Experimental Media and Performing Arts Center (EMPAC), among others, and has toured nationally and internationally. She has recently been invited to participate in Lower Manhattan Cultural Council's Extended Life program. Other fellowships and Artist-in-Residency programs include: Returning Choreographic Fellow at Maggie Allesee National Center for Choreography, Vermont Performance Lab Artist, Artist Ne(s)t (Romania), and Rockefeller Foundation (Bellagio, Italy). She has been recognized with various awards for her work, including from The New England Foundation for the Arts' National Dance Project, The MAP Fund, The Jerome Foundation, New Music USA, Trust for Mutual Understanding, and USArtists International. Castro received her B.A. in Theater & Dance and Literature from Amherst College.
Kathy Couch

INSTALLATION ARTIST
For 20 years, Kathy Couch has been designing and creating visual landscapes in performance and installation works. Primarily working in the mediums of light and space, Couch has designed over 300 performances in New York, Boston, Washington D.C., Australia, Armenia, Russia, Latvia, Serbia and throughout New England. Creating installations and designs for a variety of traditional and non-traditional spaces, Couch's artistic practice focuses on the vital role of the audience/viewer as active contributors to the work. Kathy Couch has ongoing performance collaborations with Adele Myers, Candice Salyers, The Architects and Chimaera page 9 of 12 2016 CAT Symposium Commission Proposal a canary torsi Corresponding Artist: Stephan Moore Physical Theater. As a member of the creative team for Yanira Castro's Dark Horse/Black Forest, Couch received a 2009 Bessie Award. Most recently, she collaborated with choreographer and video artist Wendy Woodson in the creation of Belonging: Reflections on Place, a video installation for the Immigration Museum of Melbourne (Australia). Kathy Couch currently teaches Lighting Design at Amherst College and received an MFA in Visual Arts from the Vermont College of Fine Arts. She is a founding board member of the Northampton Community Arts Trust that seeks innovative ways to preserve arts space in Northampton, MA and a member of the arts organization C3, a creative community collective.
Stephan Moore

INTERACTIon DESIGNER
Stephan Moore is a Lecturer in Northwestern University's School of Communication in the Department of Radio/Television/Film. His creative work is primarily concerned with the creation and perception of sonic environments, encompassing practices in field recording, physical programming, studio production, audio spatialization, loudspeaker construction and interactive software design, manifesting as sound installations, sound designs and scores for dance and theater productions, solo and group performance works and improvisations, and recordings. As a musician and sound engineer, he toured with the Merce Cunningham Dance company from 2004 to 2010. He was given a 2010 New York Dance and Performance "Bessie" Award for his score to choreographer Yanira Castro's Dark Horse/Black Forest, and a 2013 nomination for his score to The People To Come. He is the President of the American Society for Acoustic Ecology, a member of the Wingspace Design Collective, and an active curator, most recently of the exhibition In the Garden of Sonic Delights at the Caramoor Center for Music and the Arts. Moore holds an MFA in Electronic Art from Rensselaer Polytechnic Institute and a Ph.D in Electronic Music and Multimedia Composition from Brown University.
Julie Wyman

FILMMAKER
Julie Wyman is an award-winning filmmaker and a performer, writer, and professor. Her films investigate the body: locating, exploring, and inventing various situations in which the codes, conditions, and visceral experiences of physicality defy expectation. Formally, her work tends toward the eclectic, incorporating both documentary and narrative storytelling modalities and often combining various formats and tones of address into a single piece. Her 2004 film, Buoyant, screened at MoMA New York, the Walker Arts Center, the La Jolla MoCA and at festivals internationally. Her full-length documentary, A Boy Named Sue (2000) aired on Showtime, the MTV's Logo TV, and screened at festivals internationally, winning the 2001 Sappho Award for Best Documentary and receiving a nomination for the Gay and Lesbian Alliance Against Defamation's Media Award for Best Documentary. Wyman's writing has been published in the Journal of Aesthetics and Protest and an edited volume entitled Scholarly Acts. Wyman is also a member of the artist/activist collective BLW whose performance work, has been featured at venues including the Institute for Contemporary Art, Philadelphia, Southern Exposure Gallery, San Francisco, Pilot Television, Chicago, and the Wadsworth Athenaeum, Hartford. Wyman holds a an MFA from the University of California, San Diego. She is currently a Professor of Digital Filmmaking in the Cinema and Digital Media Program at UC Davis.

Performers
Anna Azrieli is a dance artist who was born in the Soviet Union and has lived in New York since she was seven. She first danced with Miguel Guttierez at NYU's Tisch School of the Arts, where she earned a BFA in Dance. She began working with the Powerful People at their inception. She has danced with Luciana Achugar, Sam Kim, Donna Uchizono, Levi Gonzalez, Wendy Perron, Fred Darsow, Erin Cornell, Freefall, and others. Anna's solo choreography has been presented by The Kitchen's Works in Process series, Dixon Place's Brink series and by Danspace Projects's DraftWork series. Her next project will be presented at The Chocolate Factory in 2016. Her collaborative choreography has been shown by Movement Research at the Judson Church and by Dixon Place's Body Blend. She recently created a work for students at University of Texas-Pan American. Anna has been a yoga teacher for eleven years.
Leslie Cuyjet is an independent performer and choreographer who lives in Brooklyn. Leslie arrived in New York in 2004 with a B.F.A. (Dance) from the University of Illinois. Her independent work has been presented in New York by AUNTS Realness and Populous, Movement Research at Judson Church, Danspace Draftworks, and Wild Project. Other self-produced choreographic and performance work lives in theaters and galleries in both Chicago and Portland, Oregon with her collaborators, Happydog. Cuyjet has a long-standing touring and performance record with Cynthia Oliver and has been a member of Jane Comfort and Company since 2005. She has had the privilege to work and learn from Meredith Monk, David Gordon, Mark Dendy, Tere O'Connor, Vanessa Walters, Kim Brandt, Sean Donovan, Niall Noel Jones, Sean Donovan (Donovan and Calderón), and Emily Wexler, among others, which now gratefully includes Yanira and a canary torsi.
Peter B. Schmitz has been involved in the creative and performing arts for over 30 years as a dancer, choreographer, actor. As a professional dancer/choreographer, Peter has worked through out the United States, Amsterdam, Germany, France, England, New Zealand and recently in Ankara, Turkey. He was a founding member of Dance Gallery, a small modern dance company, a member of Creach/Co in New York City for over 8 years, and has performed in the works of Wendy Woodson, Ann Carlson, Richard Colton/Amy Spencer. He has choreographed for New World Theatre, Medicine Show Theater and Potomac Theater Project and is a member of Actors Equity. The other challenging and rewarding performing engagements with Yanira and a canary torsi include Wilderness, Paradis and The People to Come.
David Thomson is a collaborative artist in the fields of music, dance, theater and performance since the early 1980's. David has worked with a wide range of companies and artists including Mel Wong, Trisha Brown ('87-'93), Jane Comfort, Susan Rethorst, Remy Charlip, David Roussève, Ralph Lemon, Muna Tseng, Dean Moss/Layla Ali, and Alain Buffard, among many others. Thomson has performed downtown, Off Broadway and in London with the acclaimed a cappella performance group Hot Mouth, which garnered a Drama Desk nomination for "Unique Theatrical Experience." Thomson's other projects have included work in Tracie Morris' Afrofuturistic, Sekou Sundiata's final project the 51st (dream) state, Meg Stuart's Auf Den Tisch, and as a re-performer in Marina Abramovic's MoMA retrospective, The Artist is Present. His work has been presented by The Kitchen, Danspace Project at St Mark's Church, Dance Theater Workshop, Movement Research at Judson Church, Baryshnikov Arts Center, Gibney Dance Center, LMCC Governors Island and The Invisible Dog. He has been artist-in-residence at Joyce SoHo, Dance Theater Workshop, and Movement Research, and is an inaugural Gibney DiP Resident Artist. He has won "Bessies" for Sustained Achievement and as part of the creative team for Bebe Miller's Landing/Place. He is a 2012 USA Ford Fellow, a 2013 NYFA Fellow in Choreography and a 2014 MacDowell Fellow.