First Time Connecting
Click the
on the right side of your Task Bar.
In the list of available networks select Eduroam and click Connect.
You will be asked if you wish to continue connecting, click connect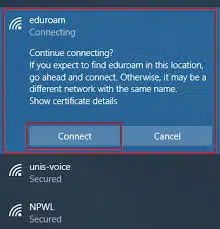 When the login prompt appears enter your full Conn email address in the username field then your password as shown:
Click the OK button or hit the Enter key.
Reconnect to Eduroam
First, you need to make the computer forget Eduroam. This will clear your computer of all outdated network certificates and old password information.
FORGET THE EDUROAM NETWORK
Click on the Windows Start button
Open the Settings menu by clickng the
Select Network & Internet
With Wi-Fi highlighted in the left pane, click on Manage known networks.
Click on eduroam and then Forget.
Close the settings window and connect to eduroam again. click here to go back to connection instructions
If you need help click the button below
If your situation does not allow you to submit a WHD ticket you can contact us at:
Phone: (860) 439-4357 Email: help@conncoll.edu