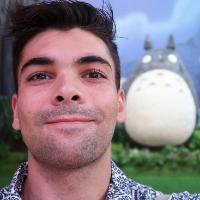 John Pearson
International Relations major, with a double minor in East Asian Studies and Architectural Studies
Center/Pathway affiliation: Toor Cummings Center for International Studies and the Liberal Arts
Favorite classroom experience at Conn: I've served as executive producer for The LOOK Magazine, a student adviser coordinator and a Reunion Weekend manager, as well as on the Toor Cummings Center's Student Advisory Board. As for my best classroom experiences, I have to give a nod to the small class sizes at Conn. My favorite class was "Ceramic Sculpture: Object as Idea," a 3-D media class in the Art Department. I learned the basics and tools needed to create some amazing pieces of work. After that course, I was hooked on sculpture.
Best takeaway from my internship: I interned at Time Out Shanghai, where I had a taste of what it means to work for an international company. The best part about this job was being thrown into many different and unique situations. I could be out in the city doing a roundup of Shanghai's best gyms and then go shoot video footage about the next viral food trend.
Post-graduation plans: I will be moving to New York City and working at the tech startup BetterCloud as an account development representative.