Four awarded U.S. Fulbright and Fulbright Austria grants
Grace Berman '18, Scott Brauer '20 and Megan Feragne '20 will receive Fulbright U.S. Student Program grants to teach English and conduct research abroad for an academic year. Sophia Angele-Kuehn '20 has been awarded a U.S. teaching assistantship in Austria, administered by Fulbright Austria.
Fulbright fellows receive round-trip travel to their host countries, a living stipend, project allowances and medical insurance. Connecticut College has had 29 winners in the last six years and is regularly recognized as a top producer of Fulbright recipients.
"As the landscape for winning these prestigious postgraduate awards becomes even more competitive, I'm very proud that Connecticut College is one of the top-producing colleges in the country," said Dean of the College and Faulk Foundation Professor of Psychology Jefferson Singer.
"The College's success with the Fulbright program is a testament to our commitment to educate students to put the liberal arts into action as citizens in an increasingly complex global society."
Students were supported throughout the Fulbright and Austrian Federal Ministry of Education, Science and Research U.S. Teaching Assistantship (USTA) program application process by an advising team composed of the Office of the Dean of the College; Associate Dean of Global Initiatives Amy Dooling; Associate Director of The Walter Commons for Global Study and Engagement and Fellowships Melissa Ryan; and Adjunct Assistant Professor of Slavic Studies and Learning Specialist Christopher Colbath. Students interested in learning more about fellowship and grant opportunities are invited to explore the new fellowships webpages.
The 2020 Fulbright fellowship and USTA winners are:
Grace Berman '18, Fulbright English Teaching Assistantship to Spain
Berman, who was an environmental studies major, anthropology minor and scholar in the Toor Cummings Center for International Studies and the Liberal Arts (CISLA) at Conn, will teach at a school in Madrid, Spain.
"I was drawn to Fulbright Spain because I've loved studying the Spanish language and have found the challenge of navigating a new language in a new country to be extremely rewarding and empowering," Berman said. "I am looking forward to helping Spanish high school students gain a similar sense of excitement and satisfaction from speaking a new language as I have found."
Berman will also help students in the Global Classrooms project, in which they participate in a Model UN-style summit. She hopes to lead a simulation of a conference of the parties to the Paris Climate Change Agreement, assigning each student a country for which they must negotiate their contributions.
"Because Madrid has one of the most ambitious plans to reduce carbon emissions of any European city, and is taking visible steps to combat climate change, it is an especially fitting setting for discussions of sustainability and climate change topics. This will allow me to blend my passion for environmental sustainability into relevant lessons and activities," she said.
At Conn, Berman played club Ultimate for four years and served as co-captain of the women's team her senior year; she hopes to get involved with a club team in Spain. She completed an internship in Argentina; worked in the Office of Sustainability for three years; was a member of CC Divest, a student-led organization promoting environmental activism on campus; and was a cast member for two years in the Womxn's Empowerment Initiative.
After graduation, Berman worked in administration and marketing at a small investment firm that specialized in socially and environmentally responsible investing. She now works in administration and communications at an industrial water treatment startup.
Following her Fulbright Fellowship, Berman plans to pursue a master's degree in environmental policy and management.
Scott Brauer '20, Fulbright English Teaching Assistantship to Germany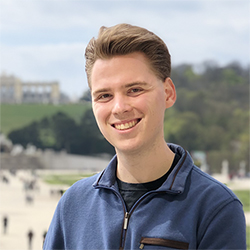 Brauer is a human development and German studies double major and scholar in the College's Toor Cummings Center for International Studies and the Liberal Arts (CISLA) from Sudbury, Massachusetts.
Brauer has been studying German for eight years. He has been to the country multiple times, including to complete a month-long intensive language course after his first year at Conn with funding from the College's John S. King Travel Scholarship, and to complete an internship and a semester abroad last year.
Brauer interned in Lübeck, Germany, where he worked as a teacher's assistant in a local school's German as a Second Language program for newly arrived migrants. He conducted interviews with the students about their experiences, which formed the basis of his undergraduate honors thesis, "'When I Came to Germany, Everything Changed': Adolescent Migrant Narratives on Shifting Identities, Societal Integration, Language Learning, and Citizenship Pathways."
"I learned so much from the students and was able to practice methodologies of second language learning from my previous courses, allowing me to gain real hands-on experience," Brauer said, adding that the internship allowed him to combine his passions for foreign language pedagogy, narratives of migration, German schooling experiences and ethnographic research.
At Conn, Brauer has been active in the Presidential Scholars program, participated as clarinetist in the Orchestra and Concert Band, served as a student adviser and a student adviser coordinator, and joined and later co-chaired the Human Development Student Advisory Board. He has also worked all four years as an office assistant in the Human Development and Education Departments, as a German tutor and as a review session instructor for the German Department.
Brauer also engaged in numerous community learning activities, including as a teacher's assistant in the Child Development Lab School, as an after school German teacher for elementary students at New London's Regional Multicultural Magnet School, as an assistant for the youth arts-empowerment initiative Writer's Block Ink, as an English tutor via Skype to a Syrian refugee through the Paper Airplanes organization, and as a classroom assistant in the English as a Second Language program at New London's Bennie Dover Jackson Middle School.
Following his Fulbright fellowship, Brauer plans to pursue a graduate degree in psychology. He hopes to eventually earn a doctorate and become a university professor and researcher.
Megan Feragne '20, Fulbright English Teaching Assistantship to Spain
A Hispanic studies major and biological sciences minor from Pomfret, Connecticut, Feragne will help teach English and plan lessons in literature, writing, art, physical education and science at a school in the Galicia region of Spain. Depending on the age of her students, she also hopes to form a running club that encourages casual English conversation.
"I have never been to Spain before, but have done extensive research on its art, landmarks and literature in my classes in the Hispanic Studies Department," Feragne said. "I have always been excited by international opportunities and have been studying Spanish since the 7th grade."
Feragne says her interests in language and teaching led her to begin considering a Fulbright fellowship early in her collegiate career. She began working toward that goal early in her junior year, meeting regularly with Cobalt and also taking his "English Teaching Methodology" course to hone her English teaching skills.
On campus, Feragne is the captain of the Women's Cross Country, Indoor Track and Outdoor Track teams. She is also the lead career fellow at the Hale Center for Career Development and works as a student academic assistant in the Government, Classics and Italian Departments.
During her four years at Conn, Feragne studied abroad on the Galápagos Islands in Ecuador and completed multiple internships, as an art teacher at a summer school, as a conservation intern in Rome, and most recently, as a Global Health research intern at Brown University, where she researched mothers' adherence to HIV antiretrovirals in Gugulethu, South Africa. There, she coded qualitative interviews of the new mothers with HIV, gathering information about their access to medication, family planning resources and familial support to inform programming efforts. Feragne says the research experience combined her passion for language, biology and community action, and helped her decide to pursue a career in the field of public health.
Following her Fulbright fellowship, Feragne will pursue a Master's Degree in science in global health at Brown University.
Sophia Angele-Kuehn '20, Austrian Federal Ministry of Education, Science and Research U.S. Teaching Assistantship to Austria
An English major with a creative writing concentration, a German studies minor and a scholar in the College's Toor Cummings Center for International Studies and the Liberal Arts (CISLA) from Hamden, Connecticut, Angele-Kuehn will teach English at a private secondary school and a business academy in Tirol, Austria.
Angele-Kuehn, who has spent the past three summers studying and interning in Germany, said she is looking forward to exploring more of the German-speaking world.
"I have never been to Austria, so I'm excited to experience its culture and language and compare it to Germany," she said. "Austria is rich with international intersections in academia and I hope to partake in the programs and events offered at the University of Innsbruck—especially at their Italy Center—and attend various literary events across the country, such as the Literaturfest in Salzburg."
On campus, Angele-Kuehn has served as the co-editor-in-chief of The College Voice newspaper, co-president of the Italian Club, a German tutor for the Academic Resource Center, a Roth Writing Center tutor, an editor for the arts and literary magazine Cadenza, and a member of the CISLA Student Advisory Board. Earlier this spring, Angele-Kuehn was named a Winthrop Scholar, the highest academic honor bestowed by the College.
After her first year at Conn, Angele-Kuehn received the College's John S. King Travel Scholarship to enroll in a month-long intensive language course in Düsseldorf. In 2018, she received a University Summer Course grant from the German Academic Exchange Service (DAAD) to study post-reunification literature during a summer course at the Martin-Luther-Universität.
Last summer, Angele-Kuehn interned at Literaturhaus Berlin, where she completed research, spoke with international authors, and helped brainstorm a writing project collaboration between the Literaturhaus and local secondary schools. The experience deepend her understanding of migrant literature and informed her creative English honors thesis, "Mutterseelenallein: A Memoir of a Mother Tongue."
"I am interested in the creative possibility that can emerge when languages intersect. After volunteering as an assistant English teacher at the Guido Reni Secondary School during my study abroad in Bologna, and then at the Albrecht-Ernst-Gymnasium in Bavaria last summer in Germany, I was interested in teaching English in Tyrol, which is located in between Germany and Italy. I chose Austria because I wish to further explore the Italy/Austria/Switzerland dialogue, which is a dynamic example of linguistic and cultural fusion," she said.
Following her year in Austria, Angele-Kuehn plans to complete a Master of Fine Arts degree in creative writing or a Ph.D. in German Studies, and would eventually like to teach at a college or university.