Dual photo exhibitions capture global rituals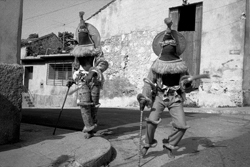 The Department of Art will present two concurrent exhibitions by photographer and alumnus David Katzenstein '76.
"World Views: Ritual and Celebration in Global Culture" and "Islam in Africa: A Pilgrimage to Touba, Senegal" will be on view in the galleries of Cummings Arts Center from Monday, Jan. 28, through Wednesday, March 6.
In "World Views," Katzenstein has captured the daily lives and communal rituals of people on five continents, including Hindu ceremonies in rural India, Santeria rituals in Cuba, Zulu dancers in South Africa, Easter processions in Guatemala, Buddhist festivals in Bhutan, Islamic ceremonies in Egypt, Jewish worship in Israel, and shamanism in the South Pacific islands of Vanuatu. His work has been described as "poetic realism."
In "Islam in Africa," Katzenstein chronicles the pilgrimage of Mouride, a Sufi brotherhood based in Senegal, who gather in the sacred city of Touba each year to commemorate the seven-year exile imposed on the founder of Mouride by French colonists in 1895. Katzenstein worked with Cheikh Fara Gaye, a Mouride disciple from Senegal now living in Philadelphia, to create "Islam in Africa."
"Together, we conceptualized this exhibition to guide visitors to the interesting sites, locations and people in the city of Touba," said Gaye. "The exhibition includes old religious dignitaries whose relationships with the founder is a story in itself. Their pictures reveal an inner beauty that corroborates the depth of their devotion. All of them are very old. They are living history, for they have been a witness to the life and times of Cheikh Ahmadou Bamba," the founder of Mouride.
Katzenstein and Gaye have continued their project in New York City documenting the Mouride community in Harlem. A new series of photographs from this recent work is on view for the first time.
"Katzenstein's work navigates the the space between documentary and personal, emotional observation," said Associate Professor of Art Ted Hendrickson. "It is engaging both visually and intellectually, a nimble exploration of the photographic art and his own curiosity about the world."
Katzenstein and Gaye will give a lecture and lead a discussion on Thursday, Feb. 14, at 4:30 p.m. in Olin Science Center Room 014. There will be another gallery talk on Wednesday, Feb. 20, at 4:15 p.m. and a reception on Wednesday, Feb. 20, from 5 to 6 p.m. The exhibits and lectures are made possible by the Dayton Artist-in-Residence Program.
The Cummings Arts Center Galleries are open 9 a.m.-5 p.m. Monday through Friday and 1-4 p.m. on Saturday and Sunday. For more information, contact the Art Department at (860) 439-2740.
---
December 12, 2012