Grammy-winning artist to perform, discuss sustainability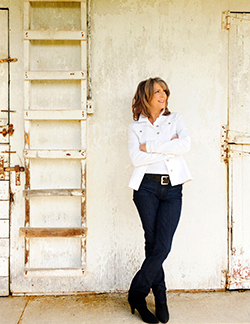 onStage at Connecticut College presents Kathy Mattea in concert on Friday, Jan. 31, at 7:30 p.m. in Palmer Auditorium.
The "Calling Me Home" concert shares its title with Mattea's latest album, a collection of songs celebrating the Appalachian culture of her native West Virginia. In the 30 years since she first landed a recording contract, her musical palette has continued to expand, and she has infused country with bluegrass, folk, gospel, Celtic and world music to create a unique catalog of music that's all her own.
Mattea has received numerous awards from the Academy of Country Music and the Country Music Association, including Female Vocalist of the Year and Single of the Year, for songs like "Love at the Five and Dime," "Eighteen Wheels and a Dozen Roses," and "Where've You Been," which earned her a Grammy for Best Female Country Vocal Performance.
She has also been honored for her activism, from her early involvement with HIV/AIDS-related charities to her most recent focus on the environment. Her commitment to these causes has made Mattea a popular speaker, and the day before her performance she will deliver a lecture titled "My Coal Journey," which combines stories from her family's ties to coal-mining culture with songs from her album "Coal." The multimedia presentation centers on a discussion of environmental and social justice issues surrounding coal-mining methods in use today.
Robert Richter, director of arts programming at the College, said "One of the reasons the College wanted to bring in Kathy Mattea to perform and speak is our shared interest in sustainability and environmental issues. I heard her speak a few years ago and was blown away by her knowledge and her personality. She's articulate and moving when she speaks of the need to fight global warming and unsustainable coal-mining methods."
The lecture is at 4:30 p.m. on Thursday, Jan. 30, in Evans Hall of Cummings Arts Center. It is free and open to the public.
Tickets for Mattea's concert on Jan. 31 are $28 for general admission, $25 for seniors and $14 for students. For tickets and information, call 860-439-2787 or visit onstage.conncoll.edu.
Both the concert and lecture are produced by onStage at Connecticut College in collaboration with the College's Office of Sustainability.
---
January 9, 2014