Is it Racism? Is it Free Speech? Is it Coddling?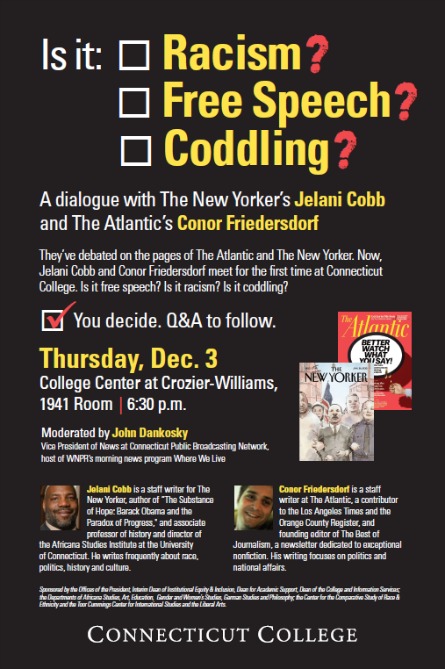 They've debated out on the pages of The Atlantic and The New Yorker. Now, award-winning journalists Jelani Cobb and Conor Friedersdorf meet for the first time at Connecticut College to discuss the issues of racism and free speech that have swept college campuses nationwide and infused Cobb's and Friedersdorf's recent writings.
Connecticut College hosts a dialogue with Jelani Cobb and Conor Friedersdorf on Thursday, Dec. 3, at 6:30 p.m., in the College Center at Crozier Williams, Class of 1941 Room. A Q&A will follow the dialogue. Is it free speech? Is it racism? Is it coddling? Hear differing points of view, learn to look at issues from another perspective, and then you decide.
Jelani Cobb is a staff writer for The New Yorker, author of "The Substance of Hope: Barack Obama and the Paradox of Progress," and associate professor of history and director of the Africana Studies Institute at the University of Connecticut. He writes frequently about race, politics, history and culture. Some recent articles include Race and the Free-Speech Diversion and What Divides Us?: An Interview with Yale College Dean Jonathan Holloway.
Conor Friedersdorf is a staff writer at The Atlantic, a contributor to the Los Angeles Times and the Orange County Register, and founding editor of The Best of Journalism, a newsletter dedicated to exceptional nonfiction. His writing focuses on politics and national affairs. Some recent articles include Free Speech is No Diversion and The New Intolerance of Student Activism.
The event is free and open to the public. It is sponsored by the Offices of the President, Interim Dean of Institutional Equity & Inclusion, Dean for Academic Support, Dean of the College and Information Services; the Departments of Africana Studies, Art, Education, Gender and Women's Studies, German Studies and Philosophy; the Center for the Comparative Study of Race & Ethnicity and the Toor Cummings Center for International Studies and the Liberal Arts.
---
December 1, 2015