New mural to showcase crew at Connecticut College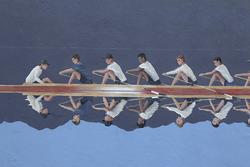 As a broad array of summer projects drew to a close in anticipation of the return of Connecticut College students, a new work of art appeared in a rather unexpected place.

Recently a new mural by New London artist Carolyn McNeil was unveiled to the College community. The artwork, located on the exterior of the Christoffers Rowing Training Room, takes the place of the sculpture "Waves," by Professor Emeritus of Art Peter E.R. Leibert. The sculpture, which was beginning to suffer from years of exposure to the elements, was moved inside the building to protect it from further damage.

"The quest for the mural started nearly two years ago when we first met Carolyn McNeil, said Eva Kovach, head women's rowing coach for the College. "We shared with her our plans to move 'Waves,' freeing up a blank wall perfect for new artwork. We saw this as a great opportunity to work with existing space and create another form of art relating to the sport."

The mural, completed during the second week of classes, depicts a rowing practice on the Thames River, something the coaches are thrilled to highlight. "Most people do not venture down to the boathouse, so we felt that the rowing facility in the Athletic Center was an appropriate space to bring our 'field' to light," said Ric Ricci, head men's rowing coach.

"Together with the "Waves" sculpture, both works of art represent the winning spirit showcased by the men's and women's crew teams," said Ricci. "It makes us proud to represent Connecticut College."

The Connecticut College Christoffers Rowing Training facility is one of the premier venues of its kind in the nation. The College is one of only 11 college and university campuses across the country with immediate waterfront access. The indoor practice space allows for the focus on the use of the equipment housed in the 5,000-square foot Christoffers Rowing Training Room, including the 16-station Emerson Sculling and Sweep Rowing Tank, 12 dynamic ergometers, 12 spin bicycles and weight equipment. The men's and women's programs utilize the fitness center as well, including using the strength and conditioning equipment for weight training and cardio work outs. The facilities allow the men's and women's crews the advantages of a year-round training environment.

---
September 14, 2012