'Not What Happened' will happen at Connecticut College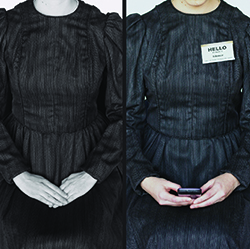 onStage at Connecticut College will present "Not What Happened," an intriguing new theater work, on Saturday, Oct. 5, at 7:30 p.m. in Palmer Auditorium. The performance is essentially a duet by two people who could never have met: the historical re-enactor and the real person whose life she re-enacts.
"Not What Happened" was conceived and written by Ain Gordon, a three-time Obie Award-winning writer/director/actor known for creating site-inspired theater works that draw on lost or overlooked histories. He physically immersed himself in rural Vermont as part of his research process, seeking not just the narrative of an average woman going about her everyday chores in 1804, but also the sense memory of it.
The performance includes images taken by Forrest Holzapfel, a photographer and the town historian of Marlboro, Vt., who, with Gordon, visited reforested manmade settlements to conjure "a sensorial portrait of our past," the writer explained.
Before the performance, Gordon and Holzapfel will participate in a panel discussion exploring how history is interpreted and what choices are made by the interpreter. Other panelists include Richard Pickering, deputy executive director of the living history museum Plimoth Plantation, and Lisa Wilson, professor of history at Connecticut College. There is no charge to attend the panel discussion, which will take place at 3:30 p.m. in the Ernst Common Room of Blaustein Humanities Center.
Reserved seating tickets for the performance of "Not What Happened" are $24 for general admission, $21 for seniors and $12 for students.
This program is funded in part by Connecticut Humanities and the Expeditions program of the New England Foundation for the Arts, made possible with funding from the National Endowment for the Arts, with additional support from the six New England state arts agencies.
---
September 27, 2013