onStage at Connecticut College presents Adele Myers and Dancers world premiere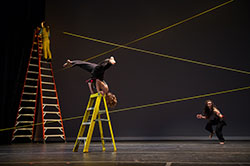 The critically acclaimed Adele Myers and Dancers will premiere Myers' newest full-length work, "Einstein's Happiest Thought," as part of onStage at Connecticut College on Saturday, Sept. 28, at 7:30 p.m. in Palmer Auditorium.

The performance folds dance, film, music and scripted performance into a seamless expression of the charged state of imbalance and was inspired in part by Myers' attempt to get over her fear of heights by participating in trapeze school, as well as an essay on skydiving written by collaborator Blanche Boyd, Connecticut College's Weller Professor of English and Writer-in-Residence.
In notes about the program, Myers' wrote, "The title refers to a 'thought experiment' that Einstein claimed was the happiest thought of his life. His happiest thought was about the different ways we experience the same amount of time and space in relation to gravity. The live performance is a collaborative thought experiment about what happens to our sense of time, space and gravity as we anticipate taking a risk.."
Myers was on the dance faculty of Connecticut College from 2006 until 2013, and "Einstein's Happiest Thought" has been a project-in-residence at the College for the past two years.
"It has been very exciting to see Adele's work develop — particularly the creation of this piece," said Robert Richter, director of arts programming. "I'm profoundly excited to bring it to our stage."
Tickets for the event are $24 for general admission, $21 for seniors and $12 for students. The audience is invited to stay in Palmer Auditorium after the performance for a discussion with the artistic collaborators of "Einstein's Happiest Thought."
The presentation of "Einstein's Happiest Thought" was made possible by the New England Foundation for the Arts' National Dance Project, with lead funding from the Doris Duke Charitable Foundation and The Andrew W. Mellon Foundation.
---
September 23, 2013