onStage at Connecticut College presents Alfredo Rodríguez Trio April 5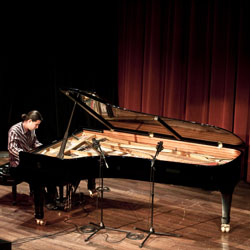 Cuban-born pianist Alfredo Rodríguez will bring his astonishing virtuosity and imagination to Connecticut College's Evans Hall April 5 as part of the onStage at Connecticut College series.
Schooled in the rigorous classical conservatories of Havana, Rodríguez's riveting artistry is informed as much by Bach and Stravinsky as by his Cuban and jazz roots. His first album, "Sounds of Space," released in 2011, was produced by the legendary Quincy Jones, who discovered Rodríguez at the Montreux Jazz Festival in 2006.
"Alfredo is very special and I do not say that easily because I have been surrounded by the best musicians in the world my entire life," Jones has said of Rodríguez. "He is without doubt one of the best young pianists I've ever seen and with the enormous skills that he already possesses, his potential is limitless."
In addition to Rodríguez on the piano, the trio includes Peter Slavov on bass and Francisco Mela on drums.
The performance is at 8 p.m. in Evans Hall, Cummings Arts Center. Tickets are $22 for general admission, $20 for seniors and $11 for students. For tickets, call 860-439-ARTS (2787) or visit http://onstage.conncoll.edu.
onStage at Connecticut College is presented with support from The National Endowment for the Arts, State of Connecticut Department of Economic and Community Development and The Day Publishing Company.
---
April 3, 2013