onStage presents the return of 'Sweet Honey in the Rock' on April 1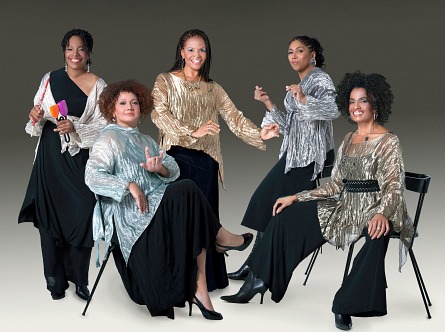 onStage at Connecticut College is pleased to present a return engagement of Sweet Honey In The Rock®, a performance ensemble rooted in African-American history and culture, on Friday, April 1, in Palmer Auditorium at 7:30 p.m.
Tickets are $28 for general admission, $25 for seniors and $14 for students and can be purchased online at http://onstage.conncoll.edu or by phone at 860-439-ARTS (2787).
Grammy Award-nominated Sweet Honey In The Rock® continues to evolve and cultivate the rich textures of African American musical traditions. The ensemble possesses a stunning vocal prowess that captures the complex sounds of blues, spirituals, traditional gospel hymns, rap, reggae, African chants, hip hop, ancient lullabies, and jazz improvisation. The group's collective voice, often accompanied by hand percussion instruments and bass, produces a sound filled with soulful harmonies and intricate rhythms.
The ensemble educates, entertains and empowers its audience and community through the dynamic vehicles of a cappella singing and American Sign Language interpretation for the deaf and hearing impaired. Sweet Honey's audience and community come from diverse backgrounds and cultures throughout the United States and around the world, and include people of all ages, economic/educational/social backgrounds, political persuasions, religious affiliations, sexual preferences and differing abilities. The Fort Worth Star Telegram calls Sweet Honey "the gold standard," for they are able to produce a sound that "does not seem humanly possible."
"It is a great pleasure to bring Sweet Honey in the Rock back to Connecticut College and New London. I'm very excited about sharing Sweet Honey's exquisite sounds and stunning harmonies with their long-time fans and new audiences," said Robert Richter, director of arts programming.
---
March 11, 2016