'Power couple of chamber music' to perform on campus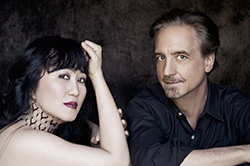 onStage at Connecticut College presents David Finckel and Wu Han in concert, Friday, Feb. 20, at 7:30 p.m. in Evans Hall, Cummings Arts Center.
The husband-and-wife team of cellist Finckel and pianist Han rank among the most esteemed and influential artists in classical music today. So much so that they are also the artistic directors of the Chamber Music Society of Lincoln Center and have been called "America's power couple of chamber music" by The Wall Street Journal. Together, they perform with a thrilling virtuosity and artistic versatility that have brought them universal acclaim from audiences at the world's most prestigious venues and concert series. Audiences in southeastern Connecticut will be similarly delighted by their performance of a program titled "Russian Reflections," which will feature sonatas by Prokofiev, Shostakovich and Rachmaninoff.
"I really wanted to bring back some very strong, straight-ahead chamber music," said Rob Richter, the College's Director of Arts Programming. "And David Finckel and Wu Han are, in the chamber music world, real powerhouses. In fact, many have credited them with revitalizing the genre through their masterful directorship of the Chamber Music Society."
In addition to being performers and artistic directors (they also oversee two other chamber music festivals, one in California and the other in Korea), Finckel and Han are educators committed to nurturing the careers of young artists through a variety of educational outreach programs they conduct around the world. They will teach a master class for Connecticut College music students while on campus.
The two are also entrepreneurs, launching classical music's first musician-led, Internet-based recording company, ArtistLed, in 1997.
"They're so multifaceted, building their careers beyond performing, and my music department colleagues and I are very pleased that they'll be sharing their knowledge and enthusiasm with our students during the master class," said Richter. "And then, of course, those students — and the community — will have the great pleasure of seeing them perform that evening."
Tickets for the show are $22, $20 for seniors and $11 for students. For tickets and information, call 860-439-2787 or visit onstage.conncoll.edu.
---
February 12, 2015