Professor Canton wins W.E.B. du Bois Book Prize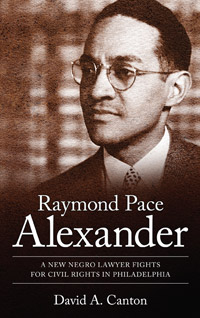 Professor David Canton's recent book, "Raymond Pace Alexander: A New Negro Lawyer Fights for Civil Rights in Philadelphia," has been awarded the 2011 W.E.B. Du Bois Book Prize from the Northeast Black Studies Association.

Hear audio of a WNPR interview with Canton.

The prize, named after the esteemed scholar-activist and New England native W.E.B. Du Bois, is awarded annually to the most outstanding academic book published by a scholar in the five New England states and New York whose work focuses on African American studies.
Canton, associate professor of history and director of the Center for the Comparative Study of Race and Ethnicity, was honored with the award at a Dec. 9 ceremony at the University of Connecticut.
"Raymond Pace Alexander" (University Press of Mississippi, 2010) is the first biography about the influential lawyer who fought de facto segregation in housing, education, public accommodations and the workplace in Philadelphia from 1923 to the 1960s. The work sheds light on Alexander's significant -- and largely unheralded -- contributions to the civil rights movement and helps readers better understand the importance of the civil rights struggle in the North.
"Canton's masterful scholarly excavation of the life of civil rights attorney Raymond Pace Alexander breaks new ground in the arena of historical biography," a reviewer for the Du Bois prize wrote. "[It's] deserving of scholarly recognition for its contribution to our understanding of the long black freedom struggle."
Canton, who is currently teaching a course on African American history from 1619-1865 and a first-year seminar on race, racism and sexism in American sports history, said winning an award named after Du Bois is a great honor.
"Du Bois is the eminent African American scholar, and this award represents the book's ability to give a nuanced impression of Alexander's life and the role black lawyers have played in society," he said.
Future lawyers, it seems, may benefit from the work as well. Canton said he was excited to learn that Evelyn Brooks Higginbotham, chair of African and African American studies at Harvard University, assigned the book to her Duke University law students last year and plans to use it again this spring. Canton will give a talk at Harvard next semester. Currently, Canton is working on a book of memoirs of Joe Madison, an influential African American radio talk show host and activist whose career spans more than three decades.
---
January 15, 2012