RecycleMania hits Connecticut College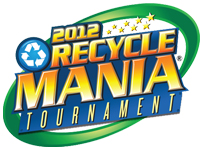 For the seventh year in a row, Connecticut College is participating in RecycleMania, a recycling competition that promotes waste reduction at colleges and universities across the country.
More than 600 schools are participating in this year's competition, which began Feb. 6 and runs through March 31. Each week, participating colleges and universities report recycling and trash data to be ranked in the various categories, including recyclables per capita, total recyclables, least amount of trash per capita and highest recycling rate.
"This competition provides an opportunity for the entire student body to learn more about recycling, and about minimizing waste overall," said Genevieve Harding '13, who serves as the program manager for the College's sustainability student organization. "Recycling is important because it is an easy first step in the process of becoming more sustainable."
Connecticut College is always a major contender in the event, placing 34th overall and second in Connecticut in the 2011 per capita classic competition, as well as 27th in the food waste category.
Josh Stoffel, Meet Our Staff, said minimizing waste and recycling are key elements of the College's commitment to sustainability.
"By reducing the amount of waste we generate on campus, we reduce pollution and save money," he said.
Stoffel added that this year, the College is stressing the importance of practicing sustainable behaviors all the time, and not just during the eight-week RecycleMania competition.
"The benefits of sustainable behaviors like recycling make them a priority all year long," he said.
---
March 6, 2012