Senior art majors present final works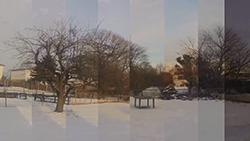 The Connecticut College Department of Art is pleased to present the 2014 Senior Art Major Exhibition, on display May 2-18 in the galleries of Cummings Arts Center.
Nineteen students incorporated a diverse range of concepts and materials into the works that reflect the culmination of studies in their major. They are: Julia Byrne, Kaitlin Fung, Sarah Hitchcock, Ariann Holden, Leah Kallen, Zhibang Liu, Julia McGinley, Georgia Naumann, Shuyler Nazareth, Zack O'Shaughnessy, Julia Pope, Miquel Salcedo, Hallie Selinger, Dave Shanfield, Sarah Taylor, Elena Warters, Stephanie Wilkes, Amy Williams and Wai Ying Zhao.
"For the Class of 2014, it has been a journey into studio practice and research that reflects the interdisciplinary approach that has informed their undergraduate education," said Pamela Marks, associate professor of art. "This show represents artworks from various disciplines, including sculpture, photography, drawing, printmaking, painting and new media. Investigations of identity, beauty, and community are just a few of the themes that run through this rich, multifaceted show."
The student artists will be on hand to discuss their work at the opening reception on Friday, May 2, from 5-7 p.m. The art major achievement, merit and purchase awards will be presented at 6 p.m.
The exhibition is free and open to the public, Monday through Friday from 9 a.m. to 3 p.m. For more information, contact the Art Department at 860-439-2740.
---
April 23, 2014