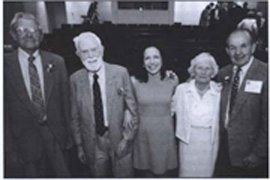 The Goodwin-Niering Center was endowed in May, 1999 with a generous lead gift from Connecticut College alumna and former trustee Helen Fricke Mathieson '52 and her husband, Drew Mathieson. It was their wish that the center be named to honor Richard H. Goodwin, Katharine Blunt Professor Emeritus of Botany, and William A. Niering, Lucretia L. Allyn Professor Emeritus of Botany.
Niering and Goodwin have collectively given over 100 years of service to Connecticut College. Both have made enormous contributions to the field of ecology and conservation of natural areas in the state of Connecticut and across the nation.

The Goodwin-Niering Center is a direct outgrowth of the early ecological studies pioneered largely by Goodwin and Niering, much of it taking place in the College's own Arboretum. "It's very significant that they've been here this long, "says Glenn Dreyer, Executive Director of the Center, as he described the pair. "It's helped define the very essence of the Center by having such continuity in long-term ecological studies."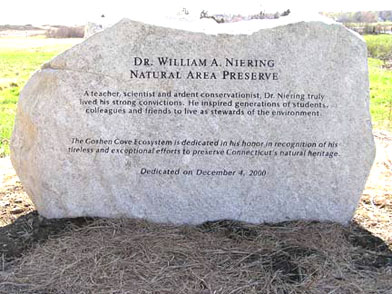 A lasting tribute to Dr. William A. Niering, teacher, scientist and conservationist, this monument is located in Harkness Memorial State Park, Waterford, Connecticut. (Photograph taken by Diana Whitelaw, former Goodwin-Niering Center Associate Director.)
In memoriam: Richard H. Goodwin