Each summer, Conn students of all class years travel across the country and around the world for Connecticut College-funded internships, exploring a wide range of careers.
The Hale Center for Career Development helps 88 percent of Conn students land an internship and take advantage of the College's flexible funding program. It's one of the most comprehensive funded internship programs in the country. And its success shows: 95 percent of Conn's alumni are employed or in graduate school one year after graduation.
Meet some of our interns: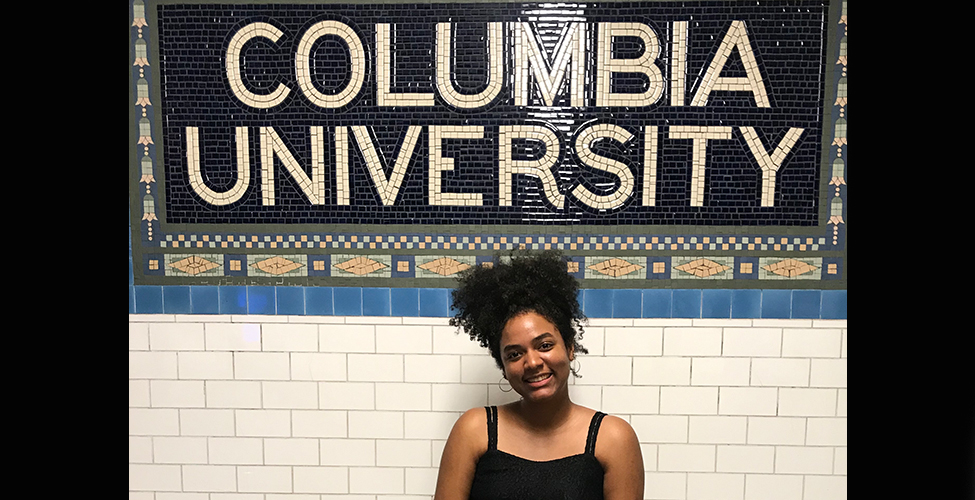 Viangely Asencio '20
Majors: Government, Italian Studies and Sociology
Pathway: Global Capitalism
Hometown: Miami, Florida
Internship: Columbia University's Graduate School of Arts and Sciences
Asencio, who is interested in how subsidized housing programs perpetuate the culture of poverty, spent the summer conducting research on public housing under the direction of Shamus Khan, chair of the Sociology Department at Columbia University.
As a summer research fellow, I conducted ethnographic observations of the public housing market in Manhattan. This research is integral to my honors thesis for the sociology department and will help inform several other projects I'll be completing my thesis during my senior year.
Victoria Azoulay '20
Major: Psychology and Economics
Pathway: Entrepreneurship, Social Innovation, Value and Change
Hometown: New Canaan, Connecticut
Internship: Pfizer Inc., New York, New York
Azoulay's responsibilities in the Hospital Business Unit included working on projects to create a team website, editing a slide deck for medical-to-medical use, and researching countries in need of surveillance of antimicrobial resistance. She'll leverage the summer experience at Pfizer by continuing to work in the healthcare industry after graduation.
As I have a well-rounded background from Conn, I have been able to work on diverse projects and work with multiple groups to help Pfizer reach its goal: putting patients first.
Hector Salazar '20
Majors: Anthropology and Environmental Studies
Hometown: Chicago, Illinois
Internship: Institute for Field Research, Uncasville, Connecticut
Salazar worked as a field archaeologist for IFR, an academically rigorous, peer-reviewed field school that ensures top quality in both research and teaching. The program covers a breadth of human, ecological, geological and natural history.
IFR afforded me the opportunity to gain hands-on experience in archaeological research. Last summer, I was trained in human remains identification, learned how to excavate in the field and contributed to the discovery of Peruvian mummies. I decided to return to IFR this summer at the Mohegan Field School in Connecticut, where I learned about the day-to-day lives of Native Americans during the colonial period. I am grateful to IFR for giving me the tools and skills I will need in my future career.
Meghan Murray '21
Major: Biology
Hometown: Burlington, Massachusetts
Internship: National Institutes of Health, Bethesda, Maryland
Murray's placement in a cellular and developmental biology lab at the National Institute of Diabetes and Digestive and Kidney Diseases was both rewarding and challenging. She worked independently on detailed cellular processes with genes unfamiliar to her, and had a memorable learning experience geared toward public health.
I had the opportunity to participate in cutting-edge research at the cellular level, which will someday allow for the development of a clinical therapy to help individuals with life-threatening genetic diseases. I have always been interested in the sciences and public health, and this internship confirmed my interest, specifically in biomedical research.
Cameron Aaron '21
Majors: Computer Science and Psychology
Hometown: Studio City, California
Internship: GitHub Inc., San Francisco, California
Aaron interned at GitHub, a company recently acquired by Microsoft that specializes in code sharing and software version control. By honing his machine learning, metrics, community building and software engineering skills, Aaron ensured customers received the best experience possible.
I gained knowledge that I will be able to apply to any industry imaginable. I can already see many of my responsibilities aligning with my product management goals.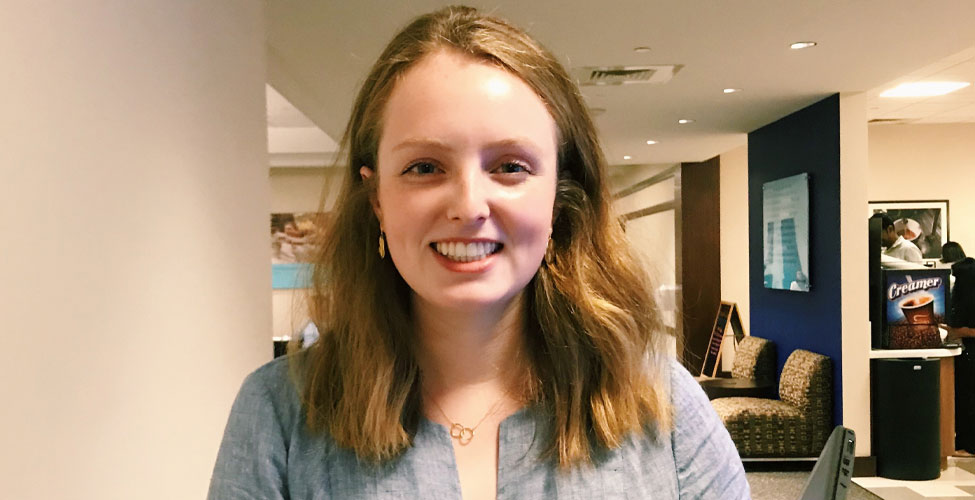 Hope Murphy '20
Major: Economics
Minors: Statistics and Computer Science
Hometown: Portland, Oregon
Internship: Massachusetts Mutual Life Insurance Company, Springfield, Massachusetts
Murphy was a business analyst and project management intern with the Enterprise, Technology and Experience branch's Product and Brokerage Team. The team oversees the creation and rollout of technology services that support MassMutual Financial Advisors' product development and brokerage distribution channels.
Knowing how to navigate a group dynamic and be a reliable teammate proven to be very valuable at MassMutual. My favorite part of my job was getting to work beside professionals who are engaged and are excited to come to the office every day. It was encouraging to be part of a corporate culture that prioritizes its employees.
Bailey Whitman '20
Majors: Economics and Environmental Studies
Pathway: Social Justice and Sustainability
Hometown: North Wales, Pennsylvania
Internship: Envirocon, Missoula, Montana
Whitman interned at Envirocon, a top-performing remediation and ecological restoration firm recently selected by the Environmental Protection Agency to remediate and restore several Superfund sites. During the two-part internship, Whitman worked with the financial team at the corporate headquarters in Montana and on-site at the Curtis Paper Mill in New Jersey.
Throughout my first three years at Connecticut College, I have devoted my time in and out of the classroom to finding economic answers to environmental issues. This internship allowed me to do just that, as Envirocon prides itself on sustaining a future with its ecological restoration work. This was an incredible opportunity to learn from some of the best in the ecological restoration industry, and I hope to use what I learned at Envirocon and expand it to environmental problems relating to our oceans.
McKaela Simons '21
Major: Computer Science
Hometown: Redmond, Washington
Internship: Microsoft, Redmond, Washington
Simons spent 12 weeks on a small team within the Microsoft Intune division, tackling assigned projects and problem-solving as program manager and software engineer.
I got a lot of hands-on experience designing features and writing code, as well as many opportunities to learn from other employees. I also gained experience working in a professional environment.
Neal Mahoney '22
Majors: Economics and International Relations
Minor: Finance
Hometown: West Peabody, Massachusetts
Internship: Insight Services Group, Danvers, Massachusetts
At Insight Services Group, an anti-fraud insurance consulting firm, Mahoney worked to condense reports from private investigators into compact communications for clients, and helped manage private investigators in 47 states ("Sorry Maine, Alaska and South Dakota," he says).
I worked with members of my team and our clients to plan and deliver the best possible final products. The interpersonal and interdimensional skills I learned at Conn were imperative to my success in this position, and my skills in these areas continued to grow over the summer.
Margaret Davey '20
Major: Psychology
Minor: Sociology
Pathway: Bodies/Embodiment
Hometown: Groton, Massachusetts
Internship: C_Space, Boston, Massachusetts
Davey, who is interested in the interactions between people and technology, interned at the Boston-based market research company C_Space, looking at ways to use a survey mobile app to get the most effective information from users.
I worked on the background of the app, such as push notifications and responding to members who might reach out about rewards. I also was able to run my own survey that looked at the way members of Gen Z use apps on their phone and interact in ways that might be different from those of older generations. Now, I will be completing a thesis on the effectiveness of advertisements when it comes to evolving attention.
Stephanie Lewis '21
Major: Behavioral Neuroscience
Hometown: Tolland, Connecticut
Internship: Children's and Mother's Emotions Laboratory, Emory University, Atlanta, Georgia
Lewis worked closely with graduate students, studying how mothers can best respond to their infants in order to manage their frustrations. Day to day, she was involved not only in recruitment and screening of participants, but also in carrying out the research protocol with a fellow research assistant.
The experience of working directly on graduate-level research has been invaluable to me. The guidance and support that I found in the lab was amazing and provided me with the skills and resources that I need to successfully transition into graduate school.
Alexandra Bernardo '20
Majors: Film Studies and Economics
Pathway: Entrepreneurship, Social Innovation, Value and Change
Hometown: Chatham, Massachusetts
Internship: Ecast Productions, Boston, Massachusetts
Bernardo worked with Ecast Production helping its clients tell stories, solve communication challenges and engage audiences. Through video, photography and live events, she helped Ecast create content that has a lasting impact.
Interning at Ecast Productions allowed me to explore all aspects of video production, including pre-production, on-set production, editing, sales work and meeting with clients. Working in corporate video production helped me further connect my studies in film and economics. The internship also directly connected to my animating question in the Entrepreneurship Pathway, where I'm investigating the impact of promotional films on the success of a variety of corporations.
Rosalinda Pineda '20
Major: Sociology
Hometown: Santa Ana, California
Internship: Boys and Girls Club, Santa Ana, California
Pineda saw the opportunity to give back in her hometown—while shaping the foundation for her future career goals—as a family-strengthening intern with the Boys and Girls Club of Santa Ana.
I worked closely with families, doing outreach and promoting our program and services, along with putting together events for the community. I was constantly engaging with parents and their children as well as with our many community partners who provide us with resources to promote family unity. I hope to become a social worker, and this experience allowed me to get a sense of the type of work I want to do in the future.
Erica Hesser '20
Major: Economics
Hometown: Rye, New Hampshire
Internship: Aetna, Hartford, Connecticut
For her second summer experience with Aetna, a CVS Health Company, Hesser focused on project management, ranging from organizing a community service project from start to finish to guiding executives on a new Aetna Student Health platform.
This summer internship has shaped my future goals by showing me the importance of company culture and the role it plays in people's careers. I've made great friends and connections through networking and I loved my role.