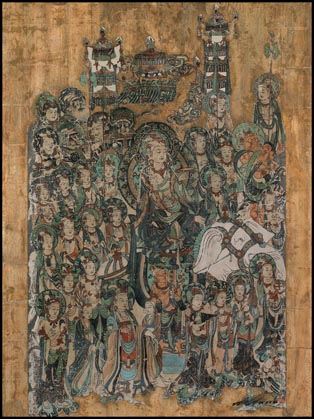 Suh Yong began his career in traditional East Asian water and ink painting. Seeking innovation while staying true to the tradition of East Asian art, he traveled to the western Chinese city of Dunhuang. Dunhuang is a small city on the edge of the desert along the Northern Silk Road. The Dunhuang Caves contain a system of 492 ancient Buddhist temples adorned with large wall paintings.
Suh Yong remained in Dunhuang several years, studying the caves and earning a PhD in the history and art of the area. His paintings incorporate the patterns, themes, and colors of the famous cave murals and blends them with modern styles and materials.
The nineteen paintings on exhibit represent some of the smaller works in Suh Yong's oeuvre, ranging in size from 180cm x 155cm to 90cm x 90cm. In addition to paints, materials include clay, hemp, and silver, gold, and copper foil.