Three honored with Connecticut College's Dr. Martin Luther King Jr. Service Awards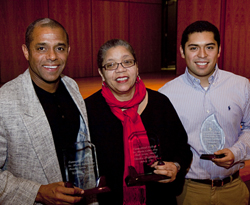 Three members of the Connecticut College community were honored with the college's annual Dr. Martin Luther King Jr. Service Awards during a celebration of King's life Jan. 29. This year's recipients are William Wuyke, adjunct professor of physical education, director of the fitness center and head coach of strength and conditioning; the Rev. Claudia Highbaugh, dean of religious and spiritual life; and senior Jason Cordova. All three were selected for upholding the legacy of King's work with their demonstrated commitment to social justice and service to underrepresented groups on campus and in the New London community.
Wuyke, a resident of East Lyme and native of Venezuela, was recognized for his leadership and commitment to community service. In addition to supporting the college's multicultural initiatives on campus, Wuyke actively engages faculty, staff and students in fitness and wellness programs and volunteers in a local soup kitchen and homeless shelter. Wuyke also works extensively with children from the New London community through the college's popular Kids, Books, Athletics (KBA) mentorship program, volunteering his time to help Connecticut College students design and implement fitness, wellness and literacy activities. "His energy, enthusiasm and positive role-modeling are impressive," Fran Shields, the Katherine Wenk Christoffers '45 Director of Athletics, said in a letter nominating Wuyke.
At Friday's award ceremony, Vice President for Administration Ulysses Hammond said Highbaugh has provided "outstanding service to her college and her community." A New London resident, Highbaugh is a dedicated educator and minister, well known on campus and in the community as an activist for her involvement with organizations that focus on the welfare of children and young adults. Highbaugh was also recognized for carrying on King's legacy through her scholarship, which focuses on issues of justice, inclusion and hospitality.
Cordova, a senior from Chino, Calif., is an "outstanding mentor and role model," Tracee Reiser, director of Connecticut College's Office of Volunteers for Community Service, said at the awards ceremony. As a student fellow for the college's Center for the Comparative Study of Race and Ethnicity, Cordova has worked to educate his peers about diversity issues, developing course curriculum, completing class lectures, organizing guest presentations and planning special events. Cordova is also actively involved with the college's Office of Volunteers for Community Service and has served as a teacher and counselor with the Camp Rotary program, which brings middle school students from New London to campus for five weeks in the summer to complete academic and enrichment programs. This past summer, Cordova was selected to serve as a team leader for the Bright Prospect Scholar Support Program, an organization that helps low-income students from California realize their dreams of attending college.
The awards were presented at the college's annual Dr. Martin Luther King Jr. commemoration ceremony, which also featured performances by faculty, staff and students.
---
February 1, 2010