College installs green roof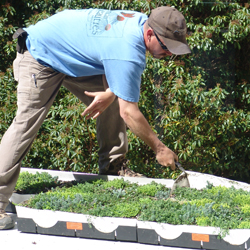 Connecticut College recently got a touch more green with the installation of a green roof atop Cro-Bar in the College Center at Crozier-Williams. A green roof - essentially a garden planted on top of a building - offers a variety of benefits, including providing additional insulation to reduce heating and cooling costs, absorbing rainfall to slow drainage, filtering pollutants out of rainwater, extending the life of a roof and offering an attractive view. The College's green roof started as interlocking palettes in which low, drought-tolerant sedums were grown by Prides Corner Farms Wholesale Nursery in Lebanon, Conn., a licensed provider of the LiveRoof brand system.
Once the plants were mature enough, the 2-by-1-foot palettes were taken to the roof by forklift and snapped together to form a 22-by-11-foot garden. Arboretum staff, including director Glenn Dreyer, assisted in the assembly, as did Brendan Kempf '10, who planted the seed for the project by writing an individual study paper about green roofs in 2008. He followed that up in 2010 with a proposal for the Cro-Bar green roof. The resulting roof is a smaller version of the large-scale green roofs that provide significant eco-improvements to buildings.
"It's a small, educational demonstration project," said Dreyer. And one more green effort in the College Center at Crozier-Williams. "We're already offsetting the carbon emissions from Cro through a forest in Costa Rica," he explained.
In other green news, the College installed new electricity meters on top of three residence halls that will allow electricity usage to be monitored for conservation efforts. According to Peter Horgan, engineering systems manager, electricity usage is monitored and a percentage of the money saved from conserving energy goes to sponsoring a concert for students. "The savings are calculated in kilowatt-hours of electricity, which can then be translated into pounds of emissions averted," explained Horgan, who added that the new meters mean the College now has a total of 36 meters monitoring electricity and water usage. "I live by the axiom 'You can't manage what you can't meter,'" he said.
---
August 30, 2011