Connecticut College to host symposium on Islam Oct. 13-14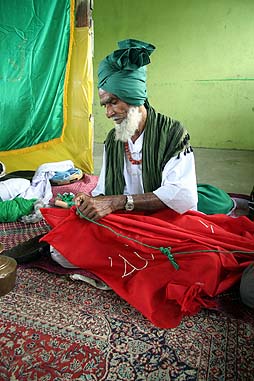 Connecticut College and the American Institute for Sri Lankan Studies will bring together religion, anthropology and history experts from across the country to discuss the impact of Sufism - an ascetic, mystical dimension of Islam - on other forms of Islam. The two-day symposium, "Sufism as a Mediating Force in South Asia," will take place on Thursday, Oct. 13, and Friday, Oct. 14. All events are free and open to the public and will take place in the Ernst Common Room of the college's Blaustein Humanities Center.
Event co-organizer Sufia Uddin, associate professor of religious studies at Connecticut College, said, "This symposium is a rare opportunity for students and members of our community to learn more about Islam and the connections it has with other religions from a group of pre-eminent scholars engaged in research and publications on Sufi Islam in South Asia."
The scholars, Uddin said, are recognized for their contributions to areas including the study of religious boundary making, the history of Sufi Islam and contemporary practices.
Vasudha Narayanan, professor of religion at the University of Florida and past president of the American Academy of Religion, will deliver the plenary lecture on Thursday, Oct. 13, at 7 p.m. Charlie Hallisey, the Yehan Numata Senior Lecturer on Buddhist Literatures at Harvard University and president of the American Institute of Sri Lankan Studies, will give the opening remarks.
On Friday, Oct. 14, there will be two sessions in which scholars will cover both historical and contemporary perspectives of this topic. The morning panel (9 a.m. - noon) will explore the past in order to provide the necessary context for understanding the dynamic role of Sufism in contemporary South Asia. The afternoon panel (2 - 5 p.m.) will consist of ethnographic studies of Sufism and focus on themes such as the careers of individual charismatic figures who advocate a tolerant and liberal form of Islam; the role of Sufi shrines in providing a venue for interaction among Hindus, Buddhists, Muslims and Christians; and the role of Sufi teachings informing a global vision of liberal Islam that focuses more on practice than doctrine.
"Those interested in learning more about Islam and communal interaction in South Asia or globalization and Islam should come to this symposium," Uddin said.
Major funding for the symposium is provided by the Council of American Overseas Research Centers (CAORC) through a grant from the Carnegie Corporation of New York.
---
October 4, 2011