Lilah Raptopoulos '11 explores Connecticut College history in an online honors thesis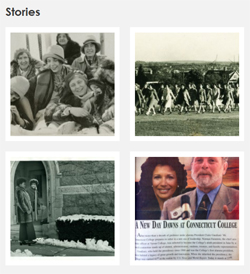 What makes Connecticut College unique? What defining elements remain constant throughout the 100 years of College history? In her honors thesis, A Partial History of Connecticut College, Lilah Raptopoulos '11 not only attempts to answer these questions, but also lets readers explore Connecticut College history for themselves with an innovative "hypermedia narrative."
"A Partial History" is an online, multimedia approach to recording the last 100 years of Connecticut College. The project, completed in the midst of the College's Centennial celebration, tells six stories from the history of the college in a nonfiction narrative that includes links to primary documents. It combines archival documents, images and videos found in the Linda Lear Center for Special Collections and Archives with interviews Raptopoulos conducted during her senior year. She graduated with the College's Centennial Class in May.
The website immerses the reader in first-person accounts from journals and interviews, black and white photos, silent films, infographics and maps. Visitors to the site can flip between time periods and media and take an active role in understanding the individual stories that contribute to the broader history of the College.
Some of Raptopoulos' favorite historical tidbits include the fact that the 1962 Room in the College Center at Crozier-Williams, now used as a banquet hall and large gathering space, was once a swimming pool, and that the Harris Refectory was named after Elizabeth Holmden Harris, who served as the director of dining beginning in the 1920s. She was also interested to learn that most of the female professors prior to the 1970s were unmarried, as it was routine then for women to have to choose between marriage and a career.
The project was the culmination of Raptopoulos' self-designed interdisciplinary major in new media studies, which Raptopoulos describes as "a humanities-based look into how new technology, specifically the Internet, is affecting the way people consume and interact with their news."
Raptopoulos, who served as the 2010-2011 editor-in-chief of Connecticut College's student newspaper, The College Voice, says her project was born from her interest in the College's history and inspiration from several of her classes.
"In my first nonfiction class at Conn, Writer-in-Residence Blanche Boyd gave us 'The New Journalism,' a book of essays, articles and book excerpts compiled by Tom Wolfe, all on events its authors purported to be true. Partial, maybe, but they really happened! This book, and Blanche, taught me how to use literary, fiction-based techniques in nonfiction writing," Raptopoulos said. "Then, courses like Media, Self and Society with professor Sunil Bhatia got me thinking about how mainstream media affects the psyche of our culture. The question became: How do I combine my interests with what I've learned to create an active, interactive project?"
Dean of Studies Theresa Ammirati, who served as Raptopoulos' thesis adviser, praised the work.
"Working with Lilah as she compiled interviews and developed this new mode of writing history was not only a pleasure, given her talents as a writer and researcher, but also really informative," she said. "I've been at the College a long time, but Lilah's project gave me new insights into the College's development, as well as the way in which it has remained true to its mission while evolving to meet the needs of a changing world."
Raptopoulos' interpretation of the College's history adds an important perspective to other sources, including the 1982 book "A History of Connecticut College" by Gertrude E. Noyes '25 and "Eighth Sister No More: The Origins and Evolution of Connecticut College," by Paul Marthers. The special Fall 2011 edition of the Connecticut College alumni magazine, published earlier this month, also has a decade-by-decade retrospective spanning the last 100 years.
"I hope that this piece of work puts the history of this place into context a little bit more," Raptopoulos said. "This College was founded on impressively progressive principles, but it's not enough just to tell you what those principles are. Ideally, a Conn student will read this narrative, see scenes from the early days of expansion, coeducation, diversification and the like, and connect that back to their lived experience of the place now." She added, "This College has a rich, multi-faceted history - it's only fair we do our best to share it."
- By Tom Owen
---
September 28, 2011