onStage at Connecticut College presents The Mingus Big Band Oct. 22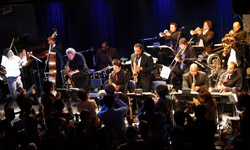 The Mingus Big Band will bring the soulful sounds of mid-century jazz to Connecticut College on Oct. 22. The 14-person ensemble celebrates the music of the late jazz giant Charles Mingus, whose eclectic style took inspiration from the Latin, gospel, blues and classical genres. His music, described by the Boston Globe as "impetuous, angry, sensitive, cerebral, anguished and ecstatic by turns," has inspired covers and reimaginings from such bands and artists as The Rolling Stones, Elvis Costello and Radiohead.
The Mingus Big Band was formed in 1991 by Charles Mingus' widow, Sue Mingus, who now manages the band to evoke the complex individual style of her late husband's masterfully crafted compositions. The group has toured extensively in the United States and abroad, but has been stationed in New York City where it's had regular performances for more than 20 years. Seven of The Mingus Big Band's 10 recorded songs have been nominated for Grammy Awards and The New York Times has described The Mingus Big Band experience as "the jazz repertory event of the season … playing songs that capture the best parts of the Mingus legacy: the muscle, the affection for history, the willingness to take chances, the guts and soulfulness."
The Mingus Big Band performance is part of Connecticut College's Centennial Fall Weekend celebration. The Fall Weekend event draws more than 1,000 alumni, parents, students, faculty and staff to campus each year. This year, in honor of the 100th anniversary of Connecticut College's founding, the weekend will feature a number of special events.
Tickets are $28, $24, $20 for general admission; $25, $21.50, $18 for seniors; $14, $12, $10 for students.
For tickets and information, call (860) 439-ARTS or visit http://onstage.conncoll.edu.
Onstage at Connecticut College is presented with support from The National Endowment for the Arts, New England Foundation for the Arts and The Day Publishing Company.
---
October 4, 2011