Rockwell painting earns Laurie Moffatt '78 a visit with President Obama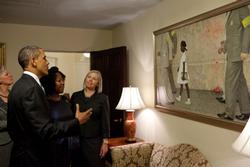 President Obama opened the doors of the White House last month for a special meeting that included Laurie Norton Moffatt '78, director and CEO of the Norman Rockwell Museum in Stockbridge, Mass.

View White House video of the meeting.

With Moffatt was Ruby Bridges Hall, an icon of the civil rights movement and one of the museum's trustees.

The meeting celebrated the White House exhibition of Norman Rockwell's iconic 1963 painting "The Problem We All Live With," which was inspired by Bridges Hall's history-changing walk integrating William Frantz Public School in New Orleans on Nov. 14, 1960. The painting shows her being escorted to school by four U.S. marshals.

Obama requested the loan of the painting from the museum's collection to honor the anniversary of Bridges Hall's childhood experience.

"I think it's fair to say that if it wasn't for you guys, I wouldn't be here today," he told Bridges Hall.

The painting will be on view through Oct. 31, hanging right outside the Oval Office and adjacent to another series of original Rockwell works on display, "So You Want to See the President."

"The girl in that painting at 6 years old knew absolutely nothing about racism," Bridges Hall told a White House videographer after the meeting on July 15. "None of us know anything about disliking one another when we come into the world. It is something that's passed on to us."

Bridges Hall was awarded an honorary degree from Connecticut College in 1995. She spoke at Convocation during the opening of that academic year.
---
August 17, 2011