The challenges of diplomacy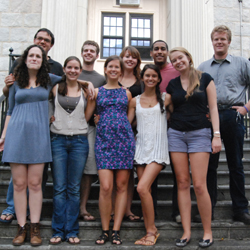 Elise Dunn '12 traveled with two professors and nine other students to New York City last week for a two-hour discussion with Iranian President Mahmoud Ahmadinejad, who was in New York for the United Nations General Assembly session. Below is Dunn's first-person reflection on the experience.
What would it be like to be in the diplomatic seat with a leader like President Mahmoud Ahmadinejad of Iran - a personable, well-educated leader who is also a notorious human rights violator and has, at times, represented a threat to American national interests? This was the dilemma that history professor Marc Forster, government professor Tristan Borer, nine other international relations and Middle Eastern studies majors and students in Connecticut College's Toor Cummings Center for International Studies and the Liberal Arts (CISLA) and I faced last week when we represented Connecticut College at a scholarly interview and meeting with President Ahmadinejad. We were invited to a dinner and question and answer session in New York City along with students and academics from 12 other colleges and universities from across the country, including Harvard, Princeton, Fordham, Columbia, Bard and Hofstra.
This evening was most assuredly a once-in-a-lifetime opportunity, one of several such opportunities I have had at Connecticut College. In the past three years, I have had the opportunity to travel to the UN and meet with the consulates from Mexico and Iran with the rest of my CISLA class, study abroad for five months in Argentina, complete a College-funded internship at a corporate transparency NGO in Mexico City for three months and travel to Bolivia to conduct research with a class on democracy in Latin America.
As undergraduate students studying international relations and government, my classmates and I delve deeply into theoretical questions in our classes on topics ranging from game theory and US foreign policy during the Cold War to cultural explanations for human rights issues like female genital mutilation and apartheid. We come to have confidence in our skills, and our learning is enriched by the many speakers who come to campus and challenge us to move beyond the theoretical level.
Our meeting with President Ahmadinejad last week, like so many of the non-traditional learning opportunities here at Conn, gave me the chance to not only apply knowledge from my research, but also to grapple with the same ethical dilemmas and ask the same questions diplomats face every day. But why were we there? Why was he there? At one point before the trip, I began to doubt that I should even go. Would my presence at this event somehow signal approval of this man or his policies? What does it mean to me and who I represent to decide to take part?
The event itself was to be a delicious Iranian dinner followed by an interview session where each delegation would have their turn to ask the president one question. The dinner was a spectacular buffet of traditional Iranian food served after we each received a decorative ornamental plate and one of three books on the topics of training and education in Islam, knowledge and Islam or human rights and Islam. We understood that these gifts and delicious food were part of the diplomatic process and prepared ourselves to look beyond the guise of political propaganda that we were about to enter during the question and answer session. In reality, the disguise we had least expected surprised us all in the form of the personable man sitting in the president's chair. He wore no tie; he was relaxed and even, well, charming.
We knew ahead of time that our delegation would be allowed to ask one question. Naturally, as CISLA students and international relations majors, we struggled amongst ourselves to find the perfect question. It needed to be a question that was not only thought provoking and relevant, but also one that would require the president to respond with an answer that went beyond the practiced rhetoric of mainstream media interviews. With the help of professors and peers here at Conn, we came up with a set of questions and selected the question after a democratic vote (naturally).
The setup of the interview was an intimate function hall with about 15 round tables for the delegations. The Conn group sat at one table (this was too bad - I had hoped to have more contact with the other attendees). Our table was positioned well enough for us to watch the president answer each question. He answered each question in Persian, while we listened to his skilled interpreter through individual headphones.
Manuel Jimenez '12 asked our question at the dinner that night. Carefully, he addressed President Ahmadinejad:
"The United States is scheduled to withdraw a large number of troops from Iraq this winter. Since Iran is heavily investing in Iraq, there is much discussion about Iran's role in this country. How do you view Iraq's political development? Do you see Iran as central to the process of state building in Iraq, or more as mentors for example? What are you hopes for Iraq's future?"
The president responded by emphasizing the long-lasting relations and interconnectedness of the two countries, while also emphasizing the importance of Iraqi self-determination during the process of state building.
Despite our preparation and analysis, we were all surprised when his answers to the other questions were just as rational and reasonable. (None of the delegations challenged his stance on Israel or directly addressed his human rights record.) On numerous occasions, he even made playful jabs and witty comments on current events. But he carefully brought each answer to focus on his goals of improving understanding and greater participation in decisions on world affairs, and he repeatedly emphasized the importance of a common love for humanity and truth in negotiations.
In his closing remarks, the president said that he and his country seek nothing more than total involvement and participation in decisions in world affairs by all states. He added that his personal goal is to replace weapons with books, pens and paper.
Naturally, many contradictions within the policies of the president come to mind. We were left wondering how much of what he said was political rhetoric targeted to a scholarly audience and how much truly reflected his values, goals and perspective.
Regardless of the degree to which our delegation was part of a bigger propaganda campaign for Ahmadinejad, I can confidently say that all of us came out of the Warwick Hotel in Manhattan that evening with a greater appreciation of the power of personal experience. Varying perspectives in the global order may at times appear to be irrational or illegitimate positions from our Western-centered perspectives. But policies can sometimes be at least partially rationalized when you consider the perspectives of countries in very different positions from our own, like Iran. What became painfully clear to me from this experience was the complexity of diplomatic relations, especially when they concern a culture so different from our own.
Heightening our awareness of this complexity: the very next day, a drastically different Ahmadinejad gave an angry and rambling 30-minute speech at the UN.
---
October 12, 2011