Admission dean shares advice for high school seniors on New York Times blog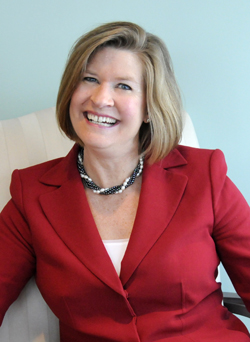 In a New York Times blog post today, Martha C. Merrill '84, Connecticut College's dean of admission and financial aid, advises high school seniors to avoid the urge to slack off.
"With applications in, seniors should take time to savor their final months of high school and enjoy family and friends. But they should also be using this important time in their lives to practice balancing academics with other commitments, and not fall victim to the 'senior slack,'" Merrill writes on the popular higher education blog, "The Choice."
Merrill lists several reasons why high school seniors should stay on track. "Colleges expect you to continue your current course schedule and maintain the level of academic and personal success demonstrated in your application," she writes. "If you can't maintain that level of success during your senior year, you cast doubt on your ability to succeed in college."
She adds that students should use their final semester of high school to practice good study skills and prepare for the rigor of college.
Today's post is Merrill's fifth in the blog's "Tip Sheet" series, which features short posts by admission officers, guidance counselors and others who can help applicants and their families better understand aspects of the admission process. Her previous posts have provided tips for applying for financial aid, tips for securing strong teacher recommendations, advice for parents about navigating the later stages of the admission process and suggestions for how to write the perfect college essay.
---
February 6, 2012