New Arabic summer program immerses students in language study and Jordanian culture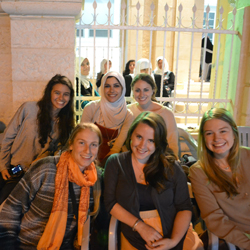 As she watched her students stomp and kick a traditional Arab folk dance at her brothers' dual wedding, Arabic studies instructor Waed Athamneh beamed with pride.
"It was like bringing someone home," Athamneh, a native of Jordan, said.
Dancing the dabke at a Jordanian wedding is just one example of the experiences 10 students had through Connecticut College's Jordan Arabic Summer Program this past summer. Founded and directed by Athamneh and Muhammad Masud, adjunct instructor of Arabic studies, this cultural and language immersion program is part of a rapidly growing Arabic studiesprogram at the College.
Students spent six weeks studying at Yarmouk University in Irbid, where they took intensive instruction in both modern standard Arabic and spoken Arabic in the Levantine dialect. Their classes focused on writing, listening comprehension, Jordanian culture, and media and current events in the Arab world, and they each earned four Connecticut College credits for the completion of 120 classroom hours.
Athamneh and Masud used their personal connections to the region - both attended Yarmouk University - to create a unique study abroad program that adds a personal touch to the traditional mix of cultural immersion and language study. In addition to the intense curriculum, the professors guided the students on weekend excursions to places like the Dead Sea, Umm Qais, Jerash, Amman, Aqaba and Petra. They also introduced the students to their own families and friends, who welcomed them as wedding guests, invited them into their homes for traditional Jordanian meals and shared conversations about food, politics and Jordanian soccer.
"We were so lucky to be embraced and included by everyone we met in Jordan," said Zachary Balomenos '14. "From day one, our professors took us in as one of their own."
The College first offered Arabic language courses in the fall of 2008, and the program has since expanded to included courses on literature and politics in the Arab world. The summer program will be offered again in 2013 for Connecticut College students who have completed at least one year of Arabic language study.
"Our aim is that this program, as part of a strong and distinguished Arabic studies Program, will set Connecticut College apart from similar institutions," Masud said.
Dec. 18 is the deadline to apply for the next summer program, which will run May 22 to July 3. Interested students should contact Waed Athamneh at wathamne@conncoll.edu or Muhammad Masud at mmasud@conncoll.edu.
---
November 28, 2012