Professor writes first full-length comparison of two German-born Jewish philosophers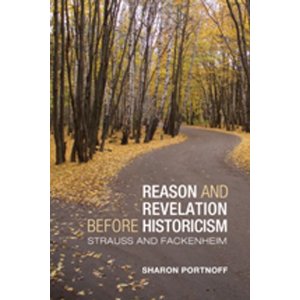 Assistant Professor of Religious Studies Sharon Portnoff has written a new book, "Reason and Revelation Before Historicism: Strauss and Fackenheim," and co-edited another, "The Companionship of Books: Essays in Honor of Laurence Berns."
In Reason and Revelation, Portnoff has written the first full-length comparison of two German-born Jewish philosophers: the theologian Emil Fackenheim and the political philosopher Leo Strauss, both of whom sought to define standards of morality in a post-Holocaust world.
Portnoff traces the tension between the concept of natural law, which can be discovered through thought and reason, and revelatory theology, which holds that truth is revealed to humanity by God.
According to Portnoff, Fackenheim was strongly influenced by Strauss and "devoted his intellectual life to the question - raised by Strauss - whether it was possible for belief in revelation to survive within the context of modern thought."
While reaching different conclusions, both men, writes Portnoff, "made it their main goal to discover a means by which reason and revelation might coexist, each in its own terms-a means that might serve both as an alternative to modern secularism … and also for Fackenheim a mending of the rupture in Judaism caused by the Holocaust."
Portnoff said writing the book was exacting, yet immensely rewarding.
"It required enormous intellectual concentration and focus," she said. "I learned so much in writing it."
Portnoff, who specializes in modern Jewish thought, Holocaust studies, Dante and the Italian Jewish writer Primo Levi, co-edited and contributed an essay to the Companionship of Books. The work is a volume of essays in honor of Laurence Berns, a distinguished tutor at St. Johns College in Annapolis, where Portnoff earned her bachelor's degree. Portnoff's essay is entitled, "For Love of One's Teachers: Dante, Virgil and Paganism."
---
December 10, 2012