Professor's book examines Latino masculinities in sports, arts and culture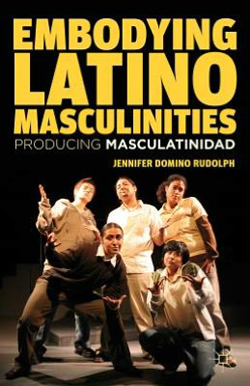 To most, the 2000 crime drama "Traffic" is a movie. For Hispanic studies professor Jennifer Rudolph, it is a fascinating study of issues of Latino masculinity, both real and imagined.
"The movie explores the Mexican-U.S. drug trade, presenting the good people and the 'less bad' as 'less Mexican,'" Rudolph said.
The film inspired her to begin exploring representations of Latino masculinity, leading to an in-depth analysis of six case studies in her new book, "Embodying Latino Masculinities." Published in 2012 by Palgrave Macmillan, the book examines Latino manhood and representations of masculinity in theater, literature, media, music and sports.
"What the book does is push us to consider: to what extent is developing these representations empowering and to what extent are they a detriment? And how do we negotiate the two?" Rudolph said.
In one case study, Rudolph examines the public persona of Major League Baseball player Manny Ramirez. The Dominican-born Ramirez was a fan favorite, as much for his child-like antics as his pure hitting power. In the chapter, Rudolph examines the rags-to-riches immigrant narrative that follows Ramirez throughout his career.
"When asked specifically what his goals were [in a 2009 ESPN interview], he did not even mention baseball, instead saying that he wants to see his children go to college and wants his children to be his friends," Rudolph writes. "His desire for his children to go to college represents the culmination of the American dream for an immigrant of humble upbringing who can provide his family with an extremely high quality of life."
Rudolph also discusses Ramirez's nicknames, "el Maldito Loco" and "Manny Being Manny," which reference "his carefree approach to baseball and life," and finally his suspension and retirement after violating Major League Baseball's performance enhancing drug policy.
Other case studies in the book examine gang life, prison experiences, literature by Latino authors, a performance piece by an all-Latina women's theater group, and the experience of reggaetón musician Don Omar.
"The range of insights Rudolph brings to the topic of Latino masculinity is nothing short of magisterial and groundbreaking," Richard T. Rodriguez, associate professor of English and Latina/ Latino studies at the University of Illinois at Urbana-Champaign, wrote in one review of the book. "Moreover, her original archive, compelling prose and breathtaking close readings are sure to make it a widely discussed project."
Rudolph, who teaches courses on Latino/a identities and cultures in the Hispanic studies department at Connecticut College, plans to discuss parts of the work in her own classes. She was also invited this semester to speak to a class studying race in the media.
---
November 30, 2012