Student-athletes garner All-NESCAC honors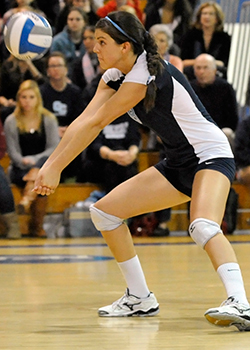 The New England Small College Athletic Conference (NESCAC) has recognized dozens of Connecticut College student-athletes for outstanding athletic performance, academic performance and sportsmanship this fall.
"On the field and in the classroom, it was a successful season for our programs," said Fran Shields, the Katherine Wenk Christoffers '45 Director of Athletics and Chair of Physical Education. "We are very proud of the accomplishments of our student-athletes."
Seven student-athletes were named to All-NESCAC teams for their respective sports, including volleyball's Rachel Schroff '13, who was selected as the 2012 NESCAC Player of the Year. Katie Ketcham '13 joined Schroff on the 2012 Volleyball All-NESCAC First Team, while NESCAC Rookie of the Year Caroline Martin '16 was named to the second team. Volleyball Coach Josh Edmed was also honored as NESCAC Coach of the Year.
In other sports, Billy Hawkey '14 was named to the 2012 Men's Soccer All-NESCAC first team, Michael LeDuc '14 was named to men's cross country's first team, Aina Torres '14 was named to women's soccer first team and Andrea Hoisington '14 was named to field hockey's second team.
Six student-athletes were honored for their positive contributions to sportsmanship. Jeff Beling '13 (men's cross country), Maura Hallisey '13 (women's cross country), Emily Scribner '13 (field hockey), Carly Guiducci '13 (volleyball), Hawkey (men's soccer) and Astrid Kempainen '15 (women's soccer) were each named to the NESCAC's 2012 Fall All-Sportsmanship Team for their respective sports.
The 2012 NESCAC Fall All-Academic Team includes 38 Camels. To be honored, a student-athlete must have reached sophomore academic standing and be a varsity letter-winner with a cumulative grade point average of at least 3.35. A transfer student must have completed one year of study at the institution.
The members of the 2012 NESCAC Fall All-Academic Team are:
Katie Beers '13 (women's cross country)
Jeff Beling '13 (men's cross country)
Grace Bilodeau '15 (women's soccer)
Matt Boudreau '13 (men's cross country)
Merry Byrne '13 (women's cross country)
Maddy Conley '14 (women's cross country)
Tristan Cole '13 (men's cross country)
Anna Curtis-Heald '15 (women's cross country)
Patrick Dermody '15 (men's cross country)
Nick DiLeo '15 (men's water polo)
Andrew Duarte '13 (men's cross country)
Brittany Fitzgerald '13 (field hockey)
Doug Garabedian '15 (men's soccer)
Matt Gitkind '13 (men's cross country)
Catherine Hallisey '13 (women's cross country)
Maura Hallisey '13 (women's cross country)
Sarah Huckins '14 (women's cross country)
Michael Joyce '15 (men's cross country)
Astrid Kempainen '15 (women's soccer)
Dillon Kerr '15 (men's soccer)
Katie Ketcham '13 (volleyball)
Amy Klopp '15 (women's cross country)
Michael LeDuc '14 (men's cross country)
Kirsten Manville '13 (women's soccer)
Ali McKeigue '13 (women's soccer)
Andrew Majkut '14 (men's cross country)
Winslow Crane-Murdoch '13 (men's soccer)
Becca Napolitano '14 (field hockey)
Max Nichols '14 (men's soccer)
Chris Pielock '13 (men's water polo)
Heather Rochford '15 (women's cross country)
Laura Sanderson '14 (field hockey)
Daniel Sandoval '15 (men's soccer)
Emily Scribner '13 (field hockey)
Sam Siegel-Wallace '15 (men's water polo)
Emma Stacey '15 (women's soccer)
Michelle Wesley '13 (women's soccer)
Elly VanZanten '14 (women's cross country)
---
November 28, 2012