Students get hands-on software development experience - and make a difference in the community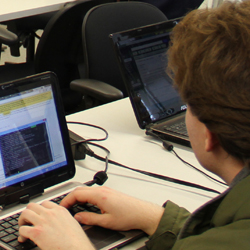 Seven teams of students in Professor William Barnes' computer science class are creating real software solutions for local non-profit organizations, including United Way of Southeastern Connecticut, Ledyard Youth Soccer and a local Boy Scout troop, as well as two groups on campus.
Barnes, an adjunct professor who coordinates the delivery of applications and applied software development for a global company in the local area, says the class is designed to give students real-world experience, all while making a difference in the community.
"A lot of people go to college and know how to develop software, but few have the business analysis and project management experience to work with a customer, understand the problem and help develop a solution," Barnes said. "This class has the added benefit of providing a software solution to a local organization that may not have been able to afford it otherwise."
Each team of students, led by an advanced computer science student, identified an organization with a software need and has been working all semester to meet the needs of the client with a deliverable solution.
"I love the idea of actually getting out there and having a real organization want you to build something for them," said Katie Ketcham '13, who is serving as the team lead for a group building a food donation web site for United Way of Southeastern Connecticut. "I'm really interested in project management, and the problems we run into in class simulate what we will run into in the real world."
Experience interacting with clients and leading a team are especially valuable, Ketcham said.
"Employers want to know if you'll be a team player or if you'll be one of those people who sits at a computer by yourself."
Senior Jennifer Blagg, who is graduating early at the end of the fall semester, knows exactly how valuable a real-world experience can be. While interviewing for a position with a software engineering company in the midwest, she spoke about her experience as the team lead for a group creating a volunteer tracking system for United Way.
"It is a great real-world application of computer science," said Blagg, who landed a job with the company.
The project also gave students the opportunity to learn more about local organizations. Blagg said she never realized how essential the services provided by United Way are to southeastern Connecticut. And through his project, Clint Mullins '13 has developed a passion for the College's Green Dot program, which trains students to help prevent power-based personal violence.
"It's just a good cause," he said. "We thought, 'We should make a great website for something that matters.'"
Darcie Folsom, Connecticut College's coordinator of sexual violence education and advocacy and leader of the College's Green Dot program, said the students are providing real value to their clients.
"Coming from a social services background, I can say how appreciative we are," she said. "There is so much work to be done and not enough people to do it. Especially websites - they are so important, but often get put on the backburner."
Walter Hewitt, management information systems director for United Way of Southeastern Connecticut, said he thinks the project is a win-win - his organization benefits and the students get valuable experience.
"It is one thing to sit down and code, but to understand how to work with somebody else, define a business problem and figure out how something will be used - that is the reality of the job," he said.
---
December 6, 2012