13 seniors awarded Connecticut College's highest honor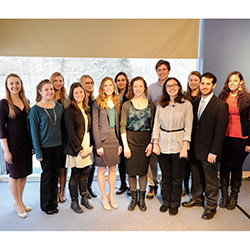 Thirteen Connecticut College seniors have been named Winthrop Scholars, the highest academic honor bestowed by the College.
The scholars were recognized at a ceremony Feb. 17. All have also been chosen for membership in Phi Beta Kappa, the national honor society of undergraduate higher education, and will be initiated in May.
The 2015 Winthrop Scholars are:
- Alexis Avery Adams-Clark, a gender and women's studies and psychology major from Coral Springs, Fla.
- Shelby Lynne Bourgault, an east Asian studies and international relations major from Old Orchard Beach, Maine.
- Cassandra Taylor Desjourdy, a literatures in English and psychology major from Medfield, Mass.
- Victoria Jean Iannarone, an ACS-certified chemistry and biology major from Jenkintown, Penn.
- Jessica A. Karpinski, a human development major from Greenville, R.I.
- Jasmine Linnea Kelekay, a philosophy, psychology and sociology major from Helsinki, Finland.
- Emily Irene LaRochelle, a biological sciences and dance major from Peabody, Mass.
- Sara Ann Maclean, a Hispanic studies and Latin American studies major from Deep River, Conn.
- Jordan Leigh Thomas, a psychology major from Cedar Falls, Iowa.
- Gregory Scott Vance, a mathematics and physics major from Nashua, N.H.
- Lauren Ann Vunderink, an anthropology major from Austin, Texas.
- Noam Shai Waksman, a literatures in English and psychology major from Wellesley, Mass.
- Avery Rebekah Whitlock, an art major from Waltham, Mass.
Parents, friends, faculty and staff attended the Feb. 17 recognition ceremony. The keynote address, "Contingencies and Convergences in the Life of the Mind," was delivered by Derek D. Turner, associate professor of philosophy, chair of the Department of Philosophy and associate director of the Goodwin-Niering Center for the Environment.
---
April 6, 2015