69 scholar-athletes named to NESCAC Spring All-Academic Team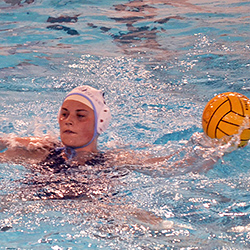 A women's water polo All-American, an Open Collegiate Sculling Championship gold medal winner and a New England Division III Track & Field Championship second-place finisher in the 5,000 meters are among the 69 Connecticut College student-athletes selected to the New England Small College Athletic Conference (NESCAC) 2015 Spring All-Academic Team.
To be honored, a student-athlete must have reached sophomore academic standing and be a varsity letter winner with a cumulative grade point average of at least 3.35. A transfer student must have completed one year of study at the institution.
The 69 members of the Connecticut College NESCAC Spring All-Academic Team are:
Nicole Adam '16, Women's Outdoor Track & Field
Tori Allen '16, Sailing
Ashley Amey '16, Women's Water Polo
Tina Balzotti '17, Women's Lacrosse
Jake Bank '17, Men's Lacrosse
Jeffrey Basch '15, Men's Tennis
Ariana Beers '16, Women's Outdoor Track & Field
Ashley Bjorkman '17, Women's Outdoor Track & Field
Kim Bolick '15, Sailing
Jordan Bothwick '15, Sailing
Jillian Brigandi '17, Women's Tennis
JC Cangelosi '15, Men's Tennis
Michael Clougher '15, Men's Rowing
Ashley Curran '17, Women's Outdoor Track & Field
Allisa Dalpe '16, Women's Lacrosse
Ryan Dean '16, Men's Outdoor Track & Field
Brad DeMarco '16, Men's Outdoor Track & Field
Patrick Dermody '15, Men's Outdoor Track & Field
Annie DiLisio '17, Women's Rowing
Hannah Donegan '17, Women's Lacrosse
Mack Dowling '17, Men's Lacrosse
Liz Dubovik '15, Sailing
Kelsey Fischer '17, Women's Rowing
Sarah Fishman '15, Women's Rowing
Mitch Green '15, Men's Lacrosse
Jack Griffin '15, Men's Lacrosse
Anna Guay '17, Women's Outdoor Track & Field
Mia R. Haas-Goldberg '16, Women's Rowing
Lacey Hale '17, Women's Lacrosse
Heidi Halsted '15, Women's Lacrosse
Brianna Harrity '17, Women's Water Polo
Charlotte Hecht '16, Women's Rowing
Alejandro Hernandez '17, Men's Outdoor Track & Field
Sung In Lee '17, Men's Rowing
Alix Israel '15, Sailing
Amanda Jacobsen '17, Women's Outdoor Track & Field
Kate Jacobson '15, Women's Water Polo
Mike Joyce '15, Men's Outdoor Track & Field
Aneeka Kalia '16, Women's Tennis
Tori Kenyon '16, Women's Outdoor Track & Field
Bryce Kopp '16, Sailing
Davis Kraft '17, Men's Lacrosse
Caroline Kuzoian '17, Women's Rowing
Caroline Leonard '16, Women's Outdoor Track & Field
Brent Lo '16, Men's Outdoor Track & Field
Max Luing '16, Men's Lacrosse
Charlotte Marcoux '16, Women's Tennis
Kelsey McGinnis '17, Women's Outdoor Track & Field
Sam McKeown '16, Men's Outdoor Track & Field
Kelsey Millward '16, Women's Water Polo
Nate Milne '15, Men's Lacrosse
Zander Mintz '17, Men's Outdoor Track & Field
Kieran Morris '15, Men's Lacrosse
Meghan Olt '16, Women's Rowing
Rebecca Quirke '17, Sailing
Raymond Rich-Fiondella '17, Men's Outdoor Track & Field
Gianna Rocchio '17, Women's Outdoor Track & Field
Alexandra Romagnoli '15, Sailing
Ellie Rudd '17, Women's Tennis
Kevin Schirmacher '17, Men's Lacrosse
Sophie Sharps '16, Women's Rowing
Jeff Smith '16, Men's Lacrosse
Sarah Sovia '17, Women's Water Polo
Sarah Spound '17, Women's Rowing
Sarah Stephenson '17, Women's Rowing
Taylor Thomas '15, Women's Lacrosse
Arianna Wendt '17, Women's Rowing
Emily Winter '16, Women's Outdoor Track & Field
Abbey Wrobleski '16, Women's Water Polo
---
May 28, 2015