Academic and activist Bhatia to receive prestigious humanitarian award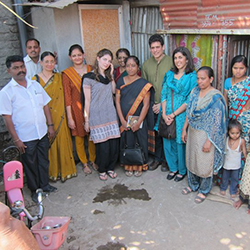 Sunil Bhatia's childhood trek to school has inspired a lifelong journey, one that will take him this August to Toronto, where he will receive the American Psychological Association's (APA) 2015 International Humanitarian Award.
Bhatia, professor of human development and chair of Connecticut College's Human Development Department, grew up in Pune, one of India's most populous cities. On his way to school, he would bike past two slums and see families who lived in homes without toilets defecating in the open. The shocking images stayed with him forever, through college and graduate school in Pune and further graduate studies in the U.S.
Eventually he connected those images with information he learned about the consequences of open defecation: Nearly 60 percent of India's 1.2 billion people defecate in the open, the world's worst sanitation record; 1,600 children under the age of five die every day from maladies, such as diarrhea, cholera and typhoid, caused by lack of proper sanitation; and 30 percent of women from underprivileged areas experience violent sexual assaults each year because the lack of sanitation facilities makes them vulnerable.
And so, on a visit back to Pune in 2005, Bhatia decided to take action.
"It's not just the physical components of living without access to toilets — the sanitation, health and safety issues — but the psychological component," he said. "Their dignity is of equal, if not greater, importance."
His first act was to create an educational awareness program at Connecticut College about sanitation, which garnered attention from the local Indian immigrant community, student clubs, such as the Asian/Asian-American Student Association, as well as the Holleran Center for Community Action and Public Policy, one of the College's five centers for interdisciplinary scholarship. The Holleran Center would become a partner when Bhatia founded Friends of Shelter Associates (FSA), a local nonprofit raising the profile of — and funds for — Shelter Associates, a Pune-based nongovernmental organization (NGO). Shelter Associates works with the urban poor, particularly women, to facilitate and support community-managed slum rehabilitation and essential services projects in Pune and surrounding cities.
To date, FSA has funded 600 toilets and sanitation projects thus impacting the lives of about 3,000 people, and Bhatia works tirelessly to grow that number while also teaching a full course load and conducting award-winning research on language, self, immigrant identity and cultural psychology.
"What I deeply appreciate about Sunil is that despite being so far from his country and having a demanding career, he still manages to find ways of supporting the cause of sanitation about which he is so passionate," said Pratima Joshi, the executive director of Shelter Associates. "I believe that many others in a similar situation can be inspired by the example that he has set."
The APA concurred and will honor Bhatia with the International Humanitarian Award at its convention in August. Bhatia's work first came to their attention in the form of a nomination letter from his colleague, Jennifer Fredricks, professor of human development and director of the Holleran Center. In it, she wrote, "I characterize Professor Bhatia's continuous efforts to make clean sanitation available to the most marginalized members of the society in Pune as deeply humane and humanitarian in its actions and perspective.
"His social justice based humanitarian approach … is based on a profound understanding of the cultural contexts in which slums function in India. Professor Bhatia's work is genuinely collaborative, thoughtful, and he views the local community living in slums as equal partners who have voice, agency, and power, in their lives."
Bhatia has expanded the network of FSA collaborators and volunteers beyond Connecticut College to include partner organizations — including educational institutions and other non-profit organizations— around New England.
"We have a board of trustees and many others doing mobilization and outreach for FSA and Shelter Associates," Bhatia said. "It's a very powerful transnational alliance."
Susan Taylor '09, one of Bhatia's former students, studied in India her junior year. When she was seeking a way to return after she graduated, Bhatia introduced her to FSA, Shelter Associates and the Davis Projects for Peace Foundation, which made it possible for her to go back and work with Shelter Associates, promoting health and hygiene awareness. She found that most NGOs face difficulty establishing trust within slum settlements due to a strong distrust of the local administration and its pattern of inaction.
"This was something that I immediately saw as different when it came to Sunil's work and the work of Shelter Associates," Taylor said. "Sunil is deeply committed to the organization and finding the best and most effective ways to support their needs. I was blown away — but not the least bit surprised — by the extraordinary high regard with which each member of the organization considers Sunil. I was instantly welcomed into this community and workplace, and I know I have Sunil's committed efforts to thank for that."
But Bhatia is quick to credit others. When he created FSA, "The community came out in big numbers," he said. "It was a real collaboration between students, faculty and staff, then members of the local community. It started out as an educational undertaking, and then we added the funding aspect. It took on a life of its own."
The APA award is the highest honor the association has to recognize humanitarian services by psychologists, particularly those working in the field under trying circumstances and with underserved populations. In making its recommendation to the APA Board of Directors, the nominating committee wrote of Bhatia, "He has brought a taboo subject — open defecation — into the spotlight to show how lack of sanitation is connected to psychological constructs of dignity, humiliation, and safety. His collaborative, community-based approach has created a sustainable program that has been shown to improve physical and psychological health, prevent the spread of disease, and provide security, privacy, dignity, and reduced fear of sexual assault for those living in the vast slums of Pune, Sangli, and Miraj, India."
Said Fredricks, "I am continually inspired by Sunil's unwavering commitment to improving the health and well-being of people in India through improved sanitation, and feel so lucky to have him as a colleague. His work is a model of how to provide humanitarian aid that is sustainable and involves the community."
The journey is not over. There are still many residents of Pune — and people the world over — who do not have access to basic sanitation, but Bhatia hopes the APA honor will help him and others change that.
"I hope the award puts a spotlight on individuals in the world who are marginalized," he said. "How to provide access to clean sanitation for almost half of humanity continues to be one of the most important moral challenges in the 21st century. Inadequate sanitation is the result of poverty, and poverty is the result of social and economic inequality, so we need to address this challenge globally, via effective policies and mobilizing the people affected by it."
---
February 17, 2015