Closing the opportunity gap for at-risk students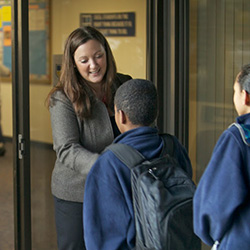 Stephanie-Lee Morgan '04 beams with pride when a perplexed parent asks her, "What have you done to my child? My kid wants to do homework."
It's the type of feedback Morgan, the founding principal of Excel Academy Charter School in Chelsea, Mass., loves to hear. She holds a steadfast belief that family income, race and zip code should not determine a student's future. It is the driving force for her work at Excel Academy, one of three middle schools in the Excel public charter school network that serves primarily Latino youth from low-income families from East Boston and Chelsea, Mass.
Excel provides its students, who are selected through a public lottery, with more hours in school and more personalized attention than traditional public middle schools. High expectations are set, and they are being met. For seven consecutive years, Excel Academy eighth graders have scored No. 1 in the state on the standardized MCAS tests — higher than students from Boston's esteemed public exam schools and nearby affluent suburbs. More importantly, 80 percent of Excel students go on to college, far surpassing the 51 percent national average for low-income families.
"Many of my students have grown up believing college is out of reach for them," says Morgan. "My goal is to provide our students with a safe, nurturing and high-quality educational experience so they want to achieve, and so that college is in their futures."
One of Morgan's former students is Carolina Diez '17. After attending Excel, Diez was accepted to Concord Academy, an independent high school in Massachusetts. Now a sophomore at Connecticut College, she plans to major in psychology and is considering a career as a board certified therapist.
"I know that if I hadn't gone to Excel for middle school, I wouldn't be where I am today. Excel provided me with all the necessary resources I needed to see my potential. I am and will always be grateful to everyone, including Ms. Morgan, who has helped me along the way," says Diez.
Morgan credits pivotal faculty and her experiences at Connecticut College with launching her career. Her college adviser, Psychology Professor Ruth Grahn, inspired her to pursue a career in STEM (Science, Technology, Engineering, Math) education for at-risk students. She learned leadership skills as a co-captain of the women's ice hockey team, and it was during her work-study job driving the van for the Office of Volunteers for Community Service that Morgan first learned about Teach for America, an organization that places recent college graduates in two-year teaching posts in high-need urban and rural schools across the United States. Upon graduation, she was accepted to the prestigious program and worked as an eighth-grade science teacher at Intermediate School 162 in the South Bronx. After her Teach for America tenure, Morgan assumed the role of lead science teacher and then department head at the school.
Committed to a career in education, Morgan earned a master's in teaching from Pace University in New York. Since then, she has received several awards for serving inner-city youth, including the Sontag Prize in Urban Education for top urban educators.
Kristin Steele, who was Morgan's hockey coach at Conn, is not surprised that Morgan excels as a leader. "As team co-captain in her senior year, Stephanie showed the maturity to lead younger, stronger players. Her ability to put the team before herself helped us get to our first playoff game," said Steele.
During the 2015-2016 school year, Morgan will serve as director of leadership development for Excel Academy, as well as for Building Excellent Schools, a non-profit that trains educators to open high-achieving college preparatory urban schools.
"All students, no matter their race, socioeconomic status, the language they speak or the neighborhood they grow up in, should have the opportunity to attain an excellent education – one that allows them to pursue a degree, affords them the opportunity to go to a school like Conn, successfully graduate and contribute to society. All students," emphasizes Morgan.
- By Elizabeth Suneby P'15 '18
---
February 6, 2015