College receives national recognition for community service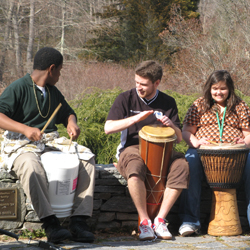 Connecticut College has been named to the President's 2014 Higher Education Community Service Honor Roll, a testament to the College's ongoing commitment to community, service-learning and civic engagement. This is the sixth consecutive time Connecticut College has been included in this national recognition since it launched in 2006.
The honor roll, administered by the Corporation for National and Community Service, recognizes institutions of higher education that support exemplary community service programs, and raise the visibility of effective practices in campus community partnerships, and achieve meaningful, measurable outcomes in communities through service.
More than 500 Connecticut College students each year volunteer, intern, work and study in local schools, agencies and other not-for-profit organizations, according to Tracee Reiser, director of the College's Office of Volunteers for Community Service and Associate Director of the Holleran Center for Community Action.
"Through these partnerships, our students deepen their knowledge, build relationships and acquire important citizenship skills. At the same time, our community partners increase capacities to deliver services and positively impact our local environment, economic development, educational achievement and health and wellness," Reiser said.
For example, the College partners with New London Public Schools and with local non-profits that offer after-school programs to improve the academic outcomes of New London children and youth. Through these partnerships, Connecticut College students provided local students with more than 8,000 hours last year of one-on-one tutoring, language enrichment programs, visits to college science and computer labs, and workshops that integrate art, music, food, calligraphy, history, geography, language and culture.
In another partnership with the New London Public Schools, Connecticut College hosts "Kids, Books & Athletics (Project KBA)," a unique program developed by the College that promotes physical fitness and literacy. In Project KBA, trained Connecticut College students teach schoolchildren age-appropriate exercises and group sports and then read books with them in small groups. They also provide a healthy snack for the schoolchildren and teach them about good nutrition and making healthy choices.
Additionally, for the past two years, Connecticut College has included a day of community service as part of its orientation for new students. Dubbed the "New London Community Project," the day is designed to introduce new students to the city and the many volunteer and learning opportunities available to them.
---
January 13, 2015