Connecticut College celebrates new campus bus stop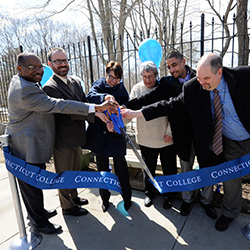 The first official SEAT (Southeast Area Transit) bus stop in New London is now up and running on the Connecticut College campus.
Campus and city officials heralded the real and symbolic importance of the bus stop at a March 24 ribbon-cutting ceremony.
"This is very exciting, not just for Connecticut College, but for the entire city of New London as we — the College and the city — continue to build our partnership," said New London Mayor Daryl Justin Finizio.
The SEAT Bus is a convenient and affordable way to get off campus and travel to some of greater New London's most popular destinations, including downtown, the train station, New London Shopping Center, Crystal Mall, Waterford Commons, Ocean Beach and Mohegan Sun Casino.
While the bus makes numerous stops along its one-hour route, it relies mostly on a flag-down system. The Connecticut College stop, located on the west side of Williams Street near the entrance to the Arboretum, includes a bench for those waiting and a sign signifying the stop, making it the SEAT system's first "official" stop.
"We hope this is the first of many bus stops for our service," said Michael Carroll, general manager at First Transit, which operates the SEAT bus system.
The Connecticut College bus stop is the brainchild of David Cruz, a native New Londoner and the community learning coordinator in the College's Office of Volunteers for Community Service. Cruz was looking for a way to make it easier for students to visit shops, restaurants and arts events in New London and Norwich, while also making it more convenient for members of the local community to get to campus for sporting events, performances, exhibitions and lectures. A SEAT bus stop seemed like a natural first move, Cruz said.
"This is only the beginning of our efforts to improve transportation options to and from campus," he added.
Connecticut College President Katherine Bergeron said the bus stop is indicative of the many ways the College and the community are coming together to build a stronger partnership. She encouraged students to use the $1.50 service to get to know the region in new and exciting ways.
"As you ride along that one-hour route, you will see the place that you live in a very different way and develop a new appreciation for the specialness of the community we call home," she said.
---
March 25, 2015