Connecticut College professor awarded William T. Grant Foundation Distinguished Fellowship to research educational policymaking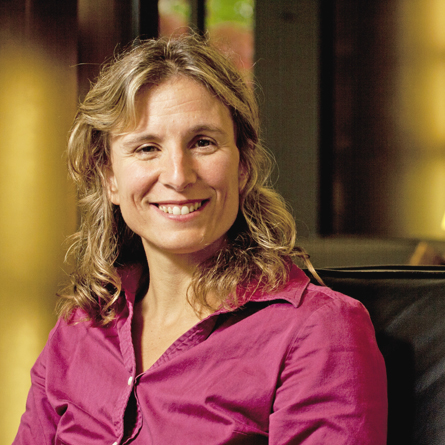 Jennifer Fredricks, professor of human development at Connecticut College, has been awarded a $141,103 Distinguished Fellowship from the William T. Grant Foundation to deepen her understanding of educational policymaking through a long-term residency at a Connecticut advocacy organization.
Fredricks is an internationally renowned expert on the operationalization and measurement of student engagement. Educators and policymakers are increasingly focused on student engagement as a key to addressing low achievement, high dropout rates, student alienation and inequalities in youth outcomes.
With the support of the fellowship, Fredricks will undertake a 17-month residency at Connecticut Voices for Children, a leading legislative and advocacy organization. Fredricks will experience policy work in areas related to student engagement, such as inequities in educational funding, community schools, and extended learning time programs. She will also write reports and fact sheets for public officials and the media, and testify at legislative hearings in Hartford.
"As someone who cares deeply about creating more engaging schools, I am increasingly concerned about how little educational research is considered in policy decisions," Fredricks said. "My goal in this fellowship is to learn more about the policymaking process and how legislators use research evidence. I can then write research that is more accessible and influential to policymakers."
The William T. Grant Foundation supports the production of high-quality social science research, with the ultimate goal of improving the lives of children and young people. Distinguished Fellowships allow influential, mid-career scholars to immerse themselves in policy or practice settings, gaining knowledge and experience to inform their future research.
The Foundation awards approximately four Distinguished Fellowships each year through a highly competitive process, typically to scholars at large research universities. The award to Fredricks is the first Distinguished Fellowship ever to go to a researcher based at a liberal arts college.
Fredricks, who joined Connecticut College in 2000, recently received a three-year grant from the National Science Foundation to develop a measure of student engagement in math and science in middle and high school students. In 2011, she was appointed director of Connecticut College's Holleran Center for Community Action and Public Policy, a multidisciplinary academic center that advances teaching, learning, research, and community collaboration.
---
July 8, 2015