Dancing Jewish: Professor choreographs new play at Yale Repertory Theatre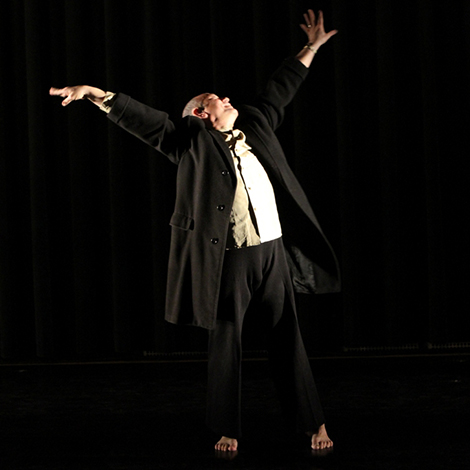 Is there such thing as Jewish dance? Can one 'dance Jewish?'
These are the questions Dance Professor David Dorfman '81 grapples with as the choreographer for "INDECENT," a highly anticipated new play premiering this week at the historic Yale Repertory Theatre.
Written by Pulitzer Prize winner Paula Vogel and directed by Rebecca Taichman, the play tells the true story of the controversial 1923 Broadway debut of Sholem Asch's "The God of Vengeance." Seen by some as a seminal work of Jewish culture, others viewed the play as an act of traitorous libel; its producers and cast were even jailed for obscenity.
Taking the audience on an "epic journey about Jewish history," "INDECENT" follows the story of "the makers, the people who loved the play and the people who fought for the play," Vogel said.
Dorfman, who leads the influential modern dance company David Dorfman Dance, said his challenge was to make the dance sections "very Jewish, and at the same time, innovative and new."
"I try to set up a gestural vocabulary from the very beginning that speaks to what it is to be Jewish and at the same time confounds what we view as Jewish traits, movements and expressions," Dorfman said.
One of the dance numbers in "INDECENT" has a Broadway feel, while another is a piously irreverent take on Hasidic dancing. There's also a brief Irish dance, so the play includes quite a range of styles, Dorfman said.
Preparing for the premiere has been intense for Dorfman, who is at the College during the day and commutes to New Haven to work on "INDECENT" in the evenings. But it has been well worth it for the opportunity to work with Vogel and Taichman.
"It's exciting to be able to give my creative feedback, and just to watch these brilliant artists work in the theater," he said. "And the Yale School of Drama has such an incredible history, so it's quite an honor to be involved with this program."
"INDECENT" was commissioned by Yale Rep and American Revolutions: The United States History Cycle at the Oregon Shakespeare Festival. The play previews Oct. 2-7 and officially opens Oct. 8. It will run through Oct. 24, before moving to La Jolla Playhouse Nov. 13-Dec. 10. It will play at the Vineyard Theatre in early 2016.
Tickets for "INDECENT" are available at www.yalerep.org.
---
October 2, 2015