Four Camels inducted into Athletic Hall of Fame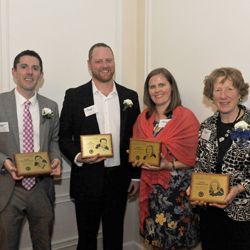 Three outstanding alumni athletes and a legendary former coach were enshrined in the College's Athletic Hall of Fame at a ceremony on Saturday, April 11.
This year's inductees included Kerry Newhall '98, Timothy Boyd '01, and Adam Fitzgerald '03, as well as former women's lacrosse and field hockey coach Anne Parmenter.
"This year's inductees were impressive, with three All-Americans and a nationally-recognized coach. This distinction honors their outstanding accomplishments at Connecticut College and their rich lives after their days as Camels," said Fran Shields, the Katherine Wenk Christoffers '45 Director of Athletics and Chair of Physical Education.
Newhall is one of the College's most decorated track and field athletes, specializing in the javelin. A three-time All-ECAC and All-New England competitor, she became ECAC Division III and New England Division III champion in 1997. Newhall qualified for the NCAA Championships twice, placing fifth in 1996 and earning All-America honors. She still holds the College javelin record of 131 feet, 3 inches.
Boyd was a two-sport star, competing in men's lacrosse and ice hockey. He shined on the lacrosse field as a three-time All-American, first team All-NESCAC and first team All-New England midfielder. His 101 goals is still a College record for midfielders and he ranks ninth all-time for points with 157. Boyd also contributed to the men's hockey team, helping them advance to an appearance in the ECAC title game in 1998.
As a senior, Boyd was presented with the Anita L. DeFrantz '74 Award, given annually to the male and female members of the graduating class whose athletic ability, leadership and sportsmanship best exemplify the qualities of the Olympic medalist.
Fitzgerald, a distance runner, was the leader of the College's most decorated men's cross country team in 2002, which placed fourth in the NCAA Regional Championship and 20th at the national level. He was named All-American in 2003 and was twice named All-New England. On the track, Fitzgerald holds the College record in the 10,000-meters; he won the event at the New England Championship in 2002 and the NESCAC Championship in 2003.
One of the most distinguished coaches in College history, Parmenter led the field hockey squad to six ECAC Division III Championship appearances over 14 years at the helm. From 1994-96, the team enjoyed its most successful stretch, going 30-17-1. In lacrosse, Parmenter's teams went 107-47 from 1991-2001, making nine appearances in the ECAC tournament, capturing conference titles in 1994 and 2000, and becoming the first Camel women's lacrosse team to qualify for the NCAA tournament in 1996.
The Athletic Hall of Fame, created in 1989, honors those who have brought distinction to themselves and Connecticut College through their achievement, commitment, sportsmanship and leadership in athletics. The Hall of Fame gallery is in the Charles B. Luce Field House.
---
May 13, 2015