History professor awarded $216K research fellowship from Andrew W. Mellon Foundation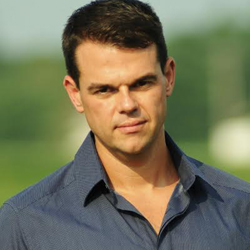 James Downs, associate professor of history and American studies, has been awarded a $216,000 New Directions Fellowship from the Andrew W. Mellon Foundation.
New Directions Fellowships are designed to support innovative interdisciplinary research by helping early-career humanities scholars pursue systematic training in a new field.
The award will enable Downs to spend the 2015-16 academic year studying medical anthropology at Harvard University, where he plans to take courses in epidemiology, archaeology and anthropological methods. This training will advance Downs' current research on how epidemiology gained scientific validity when doctors responded to cholera outbreaks among freed people in the American South, as well as the Caribbean, Europe and Asia.
The fellowship will also enable Downs to contribute to the College's initiative to develop a program in public health and expand his teaching on topics including slavery and emancipation, the history of medicine and historical methods.
This is the first time a Connecticut College faculty member has won this highly competitive fellowship. Among a dozen recipients this year, Downs is the only scholar based at a liberal arts college.
"I was delighted, but not surprised to learn that Professor Downs received this prestigious award," said Abby Van Slyck, dean of the faculty and Dayton Professor of Art History. "His proposal perfectly embodies the daring spirit of the New Directions Fellowship program."
Downs has researched the intersection of race and medicine in the 19th century United States, which was the basis of his first book, "Sick from Freedom: African-American Illness and Suffering during the Civil War and Reconstruction." While conducting the research for his first book, he considered interdisciplinary approaches to uncover the often-disastrous effects of emancipation.
---
April 24, 2015