More than $1.4 million in grants awarded to support College initiatives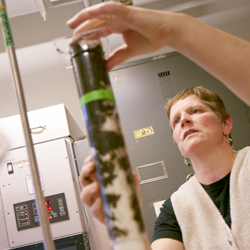 More than $1.4 million in grants will create new opportunities for student-faculty research, increase financial aid, continue to foster a diverse and inclusive campus community, and provide essential support to some of the College's most innovative programs.
"These highly competitive grants speak to the exceptional quality of our faculty and staff, while also providing expanded opportunities for our entire campus community," said Abigail Van Slyck, dean of the faculty and Dayton Professor of Art History. "They contribute in important ways to the outstanding liberal arts education that Connecticut College offers."
The grants, awarded since October, include:
Faculty research grants: $714,426
Two College faculty members were awarded grants to continue cutting-edge research: Biology professor Martha Grossel received $412,470 from the National Institutes of Health for cancer research; and biology professor Anne Bernhard received $301,956 from the Gulf of Mexico Research Initiative for research on the effects of the 2010 oil spill. The two grants include funding for College students to participate in the research process.
Sherman Fairchild Foundation: $300,000
The grant will expand the College's innovative Science Leaders program, recruiting cohorts of transfer students from select community colleges. Science Leaders is designed to increase the number of women and underrepresented students graduating from the College with a degree and research experience in the sciences.
Maximillian E. & Marion O. Hoffman Foundation and an anonymous foundation: $225,000
These grants are part of an endowed fund that will support summer research opportunities for students in the Science Leaders program. The College will match the grant over the next three years, when the endowed fund will total $600,000.
The Andrew W. Mellon Foundation: $100,000
The grant will support the College's Ammerman Center for Arts and Technology as part of the College's current efforts to reimagine its general education curriculum in the liberal arts. Initiatives funded by the grant include an interdisciplinary focus group to design a new curriculum, travel to other schools to learn about similar programs, and a visiting fellow at the Center.
Davis United World College Scholars Program: $100,000
The grant provides scholarships for top-tier international students who have graduated from United World Colleges (UWC) across the globe. The grant will support 10 College students in the Davis UWC Scholars Program in the 2014-15 academic year.
Other grants include:
$25,000 from the Sun Hill Foundation for the construction of a boardwalk in the Arboretum
$14,000 from the Gladys Krieble Delmas Foundation to digitize a collection of rare sheet music at the Greer Music Library
$10,000 from the Bennack-Polan Foundation to support the College's Sprout organic garden
$10,000 from the National Endowment for the Arts to fund two artist residencies during the College's onStage series
$10,000 from the Dr. Scholl Foundation for improvements to the Steel House
$10,000 from Anthem Blue Cross and Blue Shield to support the Healthy Choices Initiative at the Connecticut College Children's Program
$3,000 from the William and Alice Mortensen Foundation to preserve a special collection of Civil War-era documents owned by the College
---
March 4, 2015