President appoints interim team of institutional equity and inclusion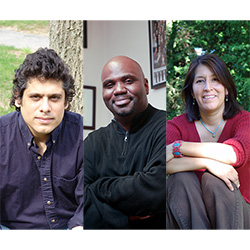 Connecticut College President Katherine Bergeron today announced that three faculty will serve as an interim team of institutional equity and diversity for the remainder of the spring semester. They are Sunil Bhatia, professor of human development; David Canton, associate professor of history; and Sandy Grande, associate professor of education.
The team will work to create new campuswide events and programs related to diversity, equity and inclusion; improve the College's protocol for handling bias incidents; serve as a support team for students, faculty and staff; and plan the formation of a new community council.
"I am pleased by the enthusiastic response from Sunil, Sandy and David and their willingness to serve in this capacity at a very busy time in the semester," Bergeron said. "I look forward to hearing ideas and suggestions from the entire campus community as we continue this important work together."
Earlier this semester, Bergeron announced the creation of a position for a dean of institutional equity and inclusion. She announced her intention to fill the role on interim basis at a recent campuswide forum on racism, equity and inclusion. The search for a permanent dean will continue later this spring, after more feedback is gathered from the community.
Bhatia, a professor at the College since 1999, specializes in racial, ethnic and migrant identity in global and transnational cultures. His research focuses on the development of self and identity within the context of postcolonial migration, globalization and formation of transnational diasporas. Earlier this year, the American Psychological Association announced he will receive the organization's 2015 International Humanitarian Award in August for his work to build sanitation facilities for the most underserved communities in India through the nonprofit Friends of Shelter Associates (FSA). Bhatia founded FSA to raise the profile of — and funds for — Shelter Associates, a nongovernmental organization based in Pune, India. In 2009, he was awarded the College's Dr. Martin Luther King Jr. Service Award, given each year to those who exemplify and uphold the legacy of Dr. King's work.
Canton, a professor at the College since 2003, is an expert in African-American urban history, civil rights and northern race relations. He is a member of the steering committee for the College's Center for the Comparative Study of Race and Ethnicity (CCSRE), and served as director of the center from 2009-2012. He has also served as co-director of the College's Mellon Mays Undergraduate Fellowship program at Connecticut College. His book, "Raymond Pace Alexander: A New Negro Lawyer Fights for Civil Rights in Philadelphia," explores racism, segregation and the civil rights struggle as American phenomena.
Grande, who joined the College in 2000, specializes in Native American/Indigenous education and critical Indigenous theory. She approaches her work with the belief that education is the heart of a critical democracy, and she has worked tirelessly for social justice education in Connecticut public schools, including making education more culturally responsive. She served as the chair of the committee that developed the CCSRE and has served in a number of other administrative capacities. In 2011, she was appointed to serve on the Environmental Protection Agency's (EPA) Indigenous People's Work Group, part of the EPA's National Environmental Justice Advisory Council. She was honored with the College's Dr. Martin Luther King Jr. Service Award in 2013.
---
April 3, 2015