Professor awarded $301,956 to continue research on effects of oil spill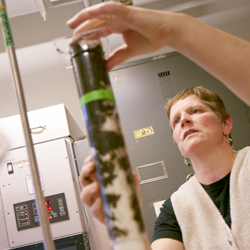 Anne Bernhard, associate professor of biology and chair of the Biology Department, has been awarded a $301,956 grant from the Gulf of Mexico Research Initiative to continue her research investigating the effects of the 2010 Deepwater Horizon oil spill on the salt marshes of Louisiana.
Bernhard is part of a group of researchers, led by the Louisiana Universities Marine Consortium, who are examining the effects of the spill on coastal ecosystems. Her grant is part of a $16 million award going to the research team, made possible by the Gulf of Mexico Research Initiative Research Board.
The board is an independent body established by BP to administer the company's 10-year, $500 million commitment to research into the effects of the oil spill.
In 2012, Bernhard was awarded a similar $202,902 grant from the Gulf of Mexico Research Initiative to begin preliminary research on the salt marshes, which focused on gathering information about microbial communities and the nutrient-cycling processes they carry out.
Now, the research team will evaluate the impact of oil exposure on marsh biogeochemical processes and associated microbial communities, and seek to improve understanding of their temporal and spatial patterns. The funding has allowed Bernhard to travel to Louisiana to collect samples that she then analyzes at Connecticut College.
"Our initial studies have shown that the system is far more complex than we thought, and our understanding of even the basic ecology of the sediments and microbial communities that live there is rudimentary," said Bernhard.
"Now that we have a better understanding of the system, for the next three years, we're going to focus on more in-depth analyses of the microbes and how they are being impacted not only by the oil, but how they interact with and are impacted by the plant life in the marsh."
The grant also provides funding for stipends for two College student researchers to work with her each summer during the three-year research project. Students from Bernhard's classes will also be able to analyze the samples from her research as part of their coursework.
Bernhard's previous research, which includes both field and laboratory components, is primarily focused on the changes in environmental conditions, microbial communities, and nutrient cycling in coastal ecosystems, particularly salt marshes and estuaries. She has also received research grants from the National Science Foundation and the Connecticut Department of Energy and Environmental Protection Long Island Sound Fund.
---
January 30, 2015