Professor Virginia Anderson to participate in selective seminar on ancient Greece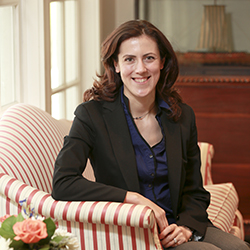 Virginia Anderson, assistant professor of theater, is one of a select group of faculty members nationwide to be chosen by the Council of Independent Colleges (CIC) and the Center for Hellenic Studies to participate in an upcoming Ancient Greece in the Modern Classroom seminar on "Song Culture of Athenian Drama."
CIC and the Center for Hellenic Studies recently selected 19 faculty members to participate in the seminar, which will take place July 20–26, 2015, at the Center for Hellenic Studies campus in Washington, D.C. Gregory Nagy, the Francis Jones Professor of Classical Greek Literature and professor of comparative literature at Harvard University, and Kenneth Scott Morrell, associate professor of Greek and Roman studies at Rhodes College, will lead the seminar. The seminar is generously funded by the Andrew W. Mellon Foundation.
"Strengthening the teaching of the classics at colleges and universities is of critical importance. This seminar series addresses the challenge of keeping alive in undergraduate education classical texts that a generation ago were read and understood by every college graduate," said CIC President Richard Ekman. "We believe that Virginia will play a strong role in the seminar."
Designed for non-specialists, the seminar will focus on the work of Euripides, a playwright from the fifth century BCE. Participants will explore the performative aspects of his plays and the ways he drew upon, adapted, and transformed a range of lyric traditions. Participants also will compare the choral song making of Euripides to the approaches of other contemporary composers of tragedy (and comedy) and situate it within the parallel forms of song making that survive from sixth century Lesbos and elsewhere.
"An exemplary campus citizen, Virginia Anderson has already directed two wildly successful plays at Connecticut College, 'Detroit' and 'On the Town,'" said Jeffrey Cole, associate dean of the faculty and professor of anthropology at Connecticut College. "Her pivotal role as director and professor of theater, and her proven commitment to the liberals arts — particularly her participation in the development of interdisciplinary courses for Connecticut College's recently revised general education program — mean that Virginia is very well-positioned to put into action what she learns at the Center for Hellenic Studies."
For 10 years, CIC has collaborated with the Center for Hellenic Studies to provide seminars on teaching the classics for small and mid-sized independent colleges that have a limited number of faculty members or courses in the classics. The seminar is ideal for faculty members who have been trained in other disciplines and who seek opportunities to explore major classical texts and learn new ways to teach these texts to undergraduates.
CIC Participants in 2015 Seminar on "Song Culture of Athenian Drama:"
Virginia Anderson, Connecticut College
Patricia Bart, Hillsdale College
Megan Burnett, Bellarmine University
Kristin Czarnecki, Georgetown College
Travis Derico, Huntington University
Kate Egerton, Berea College
Sheila Gordon, St. Edward's University
Mitchell Harris, Augustana College
Amanda Ogden Kellogg, LaGrange College
Alan Litsey, Birmingham-Southern College
Judy Myers, Saint Mary's University of Minnesota
William Nesbitt, Beacon College
Paul Robertson, Colby-Sawyer College
Irina Rodimtseva, Alderson Broaddus University
Carrie Rohman, Lafayette College
Robert Holschuh Simmons, Monmouth University
W. Lee Templeton, North Carolina Wesleyan College
Kathleen Walkner, Silver Lake College of the Holy Family
Richard Wolf-Spencer, Elizabethtown College
---
May 27, 2015