Professor's Fulbright allows him to help students in his native Senegal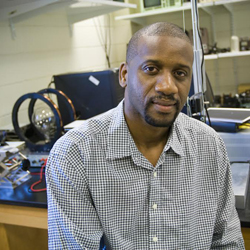 Professor Mohamed Diagne '97 visits his home country of Senegal at least every two years, but his current trip isn't a vacation. The Oakes Ames Associate Professor of Physics is teaching and conducting research as part of a Fulbright study/research grant at the Université Gaston Berger (UGB).
Diagne taught "Statistical Mechanics" and "Modern Physics" in his first semester at UGB and is currently teaching "Quantum Mechanics" and "Theory of Semiconductors." He is also conducting research with a faculty member and students on photovoltaic technology, systems that use cells to convert solar radiation into electricity.
His presence is a boon to UGB, which was created in the relatively poor but peaceful city of Saint-Louis to keep the country's best students from the distractions — and disruptive strikes — of the capital Dakar. Its seclusion, however, has kept the university from attracting experts in advanced optics technology, like Diagne.
"I can help, through workshops and seminars, enlighten the topics in the field of optoelectronics and nanotechnology," he said of his work at UGB.
And the university can help him.
"The UGB recruits the top students of the country to pursue their education in the sciences, and that is key in a researcher's professional development when manpower is needed for technical assistance. I can certainly benefit from the massive student body to collect data for my research," Diagne said.
His alma mater will also benefit from Diagne's Fulbright experience: He's planning to implement the "Theory of Semiconductors" course into the physics curriculum when he returns to Connecticut College next fall. Until then, he'll continue to share his extensive knowledge with colleagues and students in Senegal, knowing he's making an impact on the country of his birth.
"The Fulbright in Senegal is a wonderful opportunity to combine my talents with the needs of the faculty at the Gaston Berger University," said Diagne. "It is providing an enriching experience, both professionally and personally, and is also offering me a chance to give back, in modest measure, to a country that can really benefit from my expertise."
---
January 22, 2015